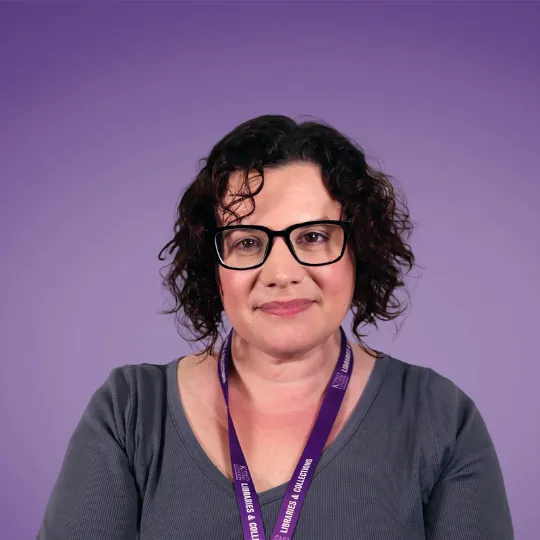 Sonya DiGiorgio BA Hons. (Oxon) MA (UCL, KCL) FHEA
Head of Clinical Library Services
Contact details
Pronouns
she/her
Biography
Sonya is an experienced health librarian who has worked in King's Libraries since 2001, beginning as a User Education Librarian at the Institute of Psychiatry Library.  Since then, she has been an Information Specialist and then a Library Liaison Manager, working closely with the Faculty of Life Sciences & Medicine and the Faculty of Dentistry, Oral & Craniofacial Sciences. In 2019 she moved into the role of Clinical Support Librarian providing specialist clinical library support for staff at King's College Hospital Trust including fulfilling evidence search requests, facilitating access to current awareness and supporting the mobilisation of knowledge within the Trust. 
Sonya has significant expertise in literature searching and systematic review support.  She is now Head of Clinical Library Services, building relationships with our NHS Trust partners and overseeing our library services offering for Trust staff. 
Areas of Expertise
Ask her about specialist clinical library services for our NHS Trust partners, searching for evidence to support clinical practice and the library's systematic review support service. 
Training
Sonya regularly runs workshops on finding and critically appraising evidence for NHS staff. Book onto these or book a 1:1 with her via our NHS Library Guide.
Sonya teaches on the following courses:
NHS001: Rapid access to evidence-based resources
NHS002: Healthcare databases for Advanced Searchers
NHS003: Introduction to Critical Appraisal of Quantitative Research
NHS004: Introduction to Critical Appraisal of Qualitative Research
Links
Publications
Wilson, N., Liu, J., Adamjee, Q., Giorgio, S. D., Steer, S., & Lempp, H. (2022). P250 The emotional impact of axial spondyloarthritis: A systematic review and thematic synthesis of qualitative studies and a review of online fora. Rheumatology, 61(Supplement_1), keac133.249. https://doi.org/10.1093/rheumatology/keac133.249
Nasseripour, M., Newton, J. T., Warburton, F., Awojobi, O., Di Giorgio, S., Gallagher, J. E., & Banerjee, A. (2021). A systematic review and meta-analysis of the role of sugar-free chewing gum on Streptococcus mutans. BMC Oral Health, 21(1), 217. https://doi.org/10.1186/s12903-021-01517-z
Drucker, A. M., Ellis, A. G., Bohdanowicz, M., Mashayekhi, S., Yiu, Z. Z. N., Rochwerg, B., Di Giorgio, S., Arents, B. W. M., Burton, T., Spuls, P. I., Küster, D., Siegels, D., Schmitt, J., & Flohr, C. (2020). Systemic Immunomodulatory Treatments for Patients With Atopic Dermatitis: A Systematic Review and Network Meta-analysis. JAMA Dermatology, 156(6), 659. https://doi.org/10.1001/jamadermatol.2020.0796