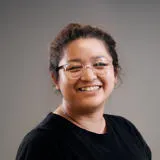 Sophia Gurung
Programmes Manager
Biography
Sophia has a MA (Hons) degree in Public History and a BA (Hons) degree in History from Royal Holloway, University of London.
Sophia joined School of Bioscience, FOLSM, in March 2017 after working in UAL and LSE Students' Union for 2 years as Academic Representation Administrator. Whilst working in the School of Biosciences, Sophia has volunteered in graduation ceremonies, student enrolment and completed the International Staff Exchange Programme in Karolinska Institutet (2019).
Sophia is an avid cook and enjoys trying different cuisines regularly. She enjoys travelling, visiting galleries and museums as well as playing Wordle in her spare time.