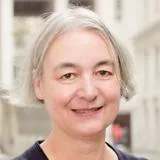 Sophie Hauser
EAP Tutor
Contact details
Biography
Sophie is a fellow of the Higher Education Academy. She has a BA in English and European Literature from the University of Warwick, an MA in English Language Teaching and Applied Linguistics from King's College London and a Cambridge Diploma in English Language Teaching to Adults.
Sophie has worked as an English language teacher for over 25 years. Before joining King's College London, she worked at the University of Roehampton where she taught on foundation, pre-sessional and degree programmes. She has also taught in language schools in Italy and London.
Prior to qualifying as a teacher, Sophie worked at The Royal National, Royal Court and Shakespeare's Globe theatres.