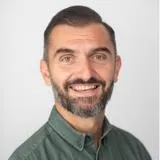 Dr Sotiris Posporelis
Hon. Clinical Senior Lecturer
Consultant Liaison Neuropsychiatrist
Biography
Hi, I am a Consultant Liaison Neuropsychiatrist in the NHS and an Honorary Clinical Senior Lecturer at the Institute of Psychiatry, Psychology and Neuroscience (King's College London). Employed by South London and Maudsley NHS Foundation Trust, my main workplace is King's College Hospital, providing care for inpatients with a wide range of neurological and neurosurgical diagnoses and comorbid neuropsychiatric symptoms, including, yet not limited to: Brain Injury, Epilepsy, Encephalitis, Movement Disorders, and Functional Neurological Disorders. I also run a National Specialist Clinic as part of the Maudsley Neuropsychiatry Outpatient Service, funded by NHS-England.
I completed my Psychiatry training at the Maudsley Training Programme and was awarded the RCPsych Researcher Trainee of the year in 2014, at the International RCPsych Conference. During this time, I also completed an 18-month clinical research fellowship at Johns Hopkins University (Baltimore, USA) working alongside Professor Akira Sawa.
With a particular interest in education, I am the Maudsley Teaching Programme organiser, a Module Lead for the MSc in Clinical Neuropsychiatry (IoPPN) and a Firm Head for the GKT School of Medicine. I also serve as the London Division Academic Secretary of the Royal College of Psychiatrists, a contributor to the BMJ Best Practice and the most recent edition of the Maudsley Prescribing Guidelines in Psychiatry. Oh, and my son is called Otto and I run a vinyl record label, too, but that's not relevant, right?
https://maudsleylearning.com/insights/braincast-webinar- series/
Research Interests
Areas of clinical and research interest include: acutely disturbed behaviour (agitation, aggression, violence), deep brain stimulation, movement and impulse control disorders, functional neurological disorders, psychosis and tics
Research Groups
Neuropsychiatry Education & Research Group (NREG)
Teaching
Maudsley Training Programme: MRCPsych Course Organiser
MSc in Clinical Neuropsychiatry (IoPPN): "Management of Neuropsychiatric Disorders" Module Lead and Clinical Observership Lead
MSc in Affective Disorders: "Treating Mood Disorders in Liaison Psychiatry"
MSc in Clinical Neuroscience: "Functional Neurological Disorders"
Expertise and Public Engagement
Maudsley Teaching Programme (MTP): I am the MTP Organiser, responsible for the teaching provided to Core Trainees in their first two years of their training.
Maudsley Learning: https://maudsleylearning.com/insights/braincast-webinar-series/
I developed and established BRΛINCAST, a weekly 30-minute conversation with inspiring people from all around the world sharing their love about the most fascinating thing that happened to your head...your brain! From the microscopic magic of a molecular scientist to the all-encompassing worldview of a philosopher, from up-and-coming PhD students to well-established professors, BRΛINCAST is open to everyone that's curious! Nah, it's not serious...the brain is too interesting to be serious! Just cast your brain aside (see what I did there?) and enjoy.
Neuropsychiatry in a day:  Conditions at the interface between neurology and psychiatry present particular challenges to clinicians. Led by experienced clinicians and established academics, this one-day course will cover the latest research and skills for assessing and treating a variety of neuropsychiatric disorders including head injury, neuroinflammatory conditions, memory disorders, functional disorders, and more. With a focus on best clinical practice, the course is informed by current research findings relevant to diagnosis, management and treatment of neuropsychiatric disorders.
Royal College of Psychiatrists: I am the London Division Academic Secretary, responsible for organising two London Division conferences a year.
Maudsley/IoPPN Grand Round(s): most probably the most iconic and longstanding IoPPN event, this is a weekly real case presentation led by SLaM Clinical Teams, alongside clinical and academic experts from the IoPPN
GKT School of Medicine: Head Firm for 3rd Year Medical students
Fair Weather Friends Records: I co-own and run a vinyl record label https://fwfrecords.bandcamp.com
https://www.linkedin.com/in/posporelis/