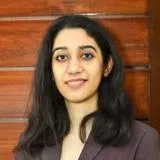 Sparsh Seghal
Co-founder, Unlock Consultancy and Investment Banking Analyst, Deutsche Bank
Business Management BSc, 2020
Biography
Describe your career journey from being a student at King's to being in your current role
As an international student at King's, I wanted to make the most of my time at university – whether through societies, associations, union elections, business school committees or volunteering - I participated in everything. This gave me the platform for growth and the confidence to further build my personality by challenging myself through various opportunities. Being in business management allowed me to discover all aspects of business, from marketing and management to finance and accounting.
The business school gave me a comprehensive understanding of practical and hands-on experience in consulting which formed the crux of the foundation of Unlock Consultancy - a pro-bono consultancy aimed at helping start-ups and MSMEs navigate operational and economic changes during COVID-19. King's helped me build a diverse and dynamic network as well as the chance to connect with students, staff and even senior board members from all over the world. Undoubtedly, my university experience has shaped me to be the individual I am in my professional life today.
What's the one thing you enjoy most about your current role?
In my role as an investment banking analyst at Deutsche Bank, I am exhilarated by the new things I learn every day. Due to the fast pace of the industry, it challenges me to leverage my strengths and work on my weaknesses on a daily basis, as well as build on my knowledge of finance and banking.
In my role as the founder of Unlock Consultancy, I love leading an organisation from the front. It helps me sharpen my management and client interaction skills as well as distress management on a micro-level. Through Unlock, I have interacted with people from different industries and backgrounds and at different stages of their careers and understanding how these differences can be turned into strengths.
What have been your biggest achievements in business and your career so far?
As the Class of 2020, we have learned to make the most of whatever opportunity is out there. I think my biggest achievement was creating an opportunity even when there wasn't one, not just for myself but for hundreds of students and businesses globally through Unlock. Established in July 2020, the consultancy has not only helped provide real-life consulting experience to graduates and professionals during the pandemic but more importantly left a positive imprint on the lives of business owners that we could help during unprecedented times. That, for me, is the biggest achievement in my career so far.
How did your time at King's help with your career journey?
King's helped me gain confidence and see the world with varying perspectives. As part of a cohort that came from almost 50 different countries, I could gain insight into how different cultures and experiences shaped our approach towards problems. I have gained lifelong friends and a network I can leverage all throughout my career. The business school provided resources to help with my interview process, assessment centres and access to an alumni network that is always ready to help. I attribute my mental, as well as social, growth to King's and for the various experiences I gained as part of societies in making me the individual I am today. I'm not afraid to stand on any public platform and voice my opinions.
What is the best piece of advice you have for current King's Business School students on achieving success in their careers?
The best piece of advice that I would give to any 18-year-old at university is not to fear not knowing what you want to do. Most of the time we stop ourselves from pursuing things in thinking if that is right for us or not. It is not important to be doing the right thing because you will never know this early in your life what it really is. Focus rather on gaining experience in whatever piques your interest now, in whatever opportunity you have now because it is this learning that will guide you to your goals and shape your ambitions in life. Three golden words for your career - just do it.
What advice would you give to future students thinking about studying at King's Business School?
Again, three golden words - just do it!
I had the best three years of my life at the School. I believe an individual's initiative shapes their experiences in life. King's Business School gave me the platform to foster creative thinking, taking the initiative and seeking guidance from some of the best minds in the country. Education encompasses not only the academic element, it is the overall experience too. And if that is what you seek, King's Business School is the right place to be.