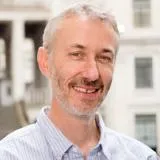 Steve Miller
EAP Tutor
Contact details
Biography
Steve has an undergraduate degree in Modern Languages (French & Spanish) and an MA in English Language Teaching & Applied Linguistics from King's College London. In addition, he is a fully trained language teacher with the higher level DELTA qualification.
Steve spent a number years as a language teacher, working for International House London, British Council Dubai and language schools in Spain and Italy. He also spent several years working as an IELTS examiner in London. For the last 12 years Steve has specialised in teaching Academic English, and for much of that time has been at King's Foundations and has taught on all our courses during that time.
While he has enjoyed exploring many areas of EAP teaching and learning (for example, genre analysis, the application of computer corpora), Steve is particularly interested in helping students of all levels understand how grammar and vocabulary can be used most accurately in their academic English written work.
In his free time Steve spends time looking after his two young boys and his garden, both of which are delightful, challenging and full of surprises.