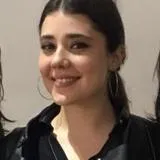 Dr Sumeyra Yalcintas
Teaching Fellow
Contact details
Biography
Sumeyra joined King's College London September 2021 as a teaching fellow. Her research background is primarily in developmental psychology, particularly in relation to family dynamics, well-being, and close relationships. Sumeyra has previously taught as a Graduate Teaching Assistant (GTA) at University of Sussex from 2017 – 2021. She received her PhD from University of Sussex November 2021, in Developmental Psychology, M.S. in Developmental Psychology from Middle East Technical University and her BSc in Psychology from Bilkent University.
Research Interests
Close Relationships
Family Psychology
Well-being
Developmental Psychology
Teaching
Sumeyra is the Module Co-lead for the Year 1 BSc Psychology module Psychology and Development. 
Latest Publications
Yalcintas S, Pike A (2021). Co-parenting and Marital Satisfaction Predict Maternal Internalizing Problems When Expecting a Second Child. Psychological Studies, 66(2). 10.1007/s12646-021-00620-z
Yalcintas S, Pike A, Oliver BR. (2021) Household Chaos and Child Behavior Problems Predict Maternal Well-being, Psychiatric Quarterly, 92(4). 10.1007/s11126-021-09947-2
Gunaydin G, Selcuk E, Urganci B, Yalcintas S. (2021) Today You Care, Tomorrow You Don't: Differential Roles of Responsiveness Variability and Average Responsiveness in Romantic Attachment. Social Psychological and Personality Science12(5):839-849 10.1177/1948550620944111