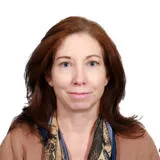 Dr Susan Schwarz
Lecturer in Strategic Entrepreneurship and Management
Research interests
Strategy, International Management and Entrepreneurship
Contact details
Biography
Susan Schwarz is a Lecturer in Strategic Entrepreneurship and Management at King's Business School. Her research focuses on the role of 'capitals' — human capital, social capital, financial capital and psychological capital — and their impact on positive individual and organisational outcomes in Eastern and Western contexts.
At King's, Susan teaches in the Strategic Entrepreneurship and Innovation MSc programme and in the Economics and Management BSc, International Management BSc, Business and Management BSc, and Language and Management BA programmes. She has taught and supervised students at all levels, including undergraduate, postgraduate, PhD, and Executive Education. Her experience as a teacher and module leader includes Entrepreneurial Strategies, Venture Finance, Entrepreneurship and Innovation in Emerging Economies, and Strategic Management.
Areas of expertise include:
Emerging markets
Small and medium-sized business
Human capital
Psychological capital
Microfinance
Her work have been published in top academic outlets such as Journal of Vocational Behavior, World Development, International Small Business Journal, Academy of Management Best Paper Proceedings, and Harvard Business School Working Papers. She is an Editorial Review Board member at Entrepreneurship Theory and Practice and previously special issue editor at International Small Business Journal.
Susan's work has earned numerous honours including King's Education Award 'Special Mention' (2020) and Best Paper awards from the British Academy of Management (2020) and Academy of Management (2018). Her research has attracted grant awards from the Institute of Asia and Pacific Studies, University Microfinance EU, and the International Association for Chinese Management Research. She is a Fellow at the British Higher Education Academy, and a longtime member of the Academy of Management and British Academy of Management.
Since 2018, Susan has been actively engaged in research on UK productivity, skills, and human capital, to support employee development in the rapidly changing economy. This has included collaboration and research dissemination with high-level professional colleagues at the Lloyds Banking Group Centre for Business Prosperity. Her work on volunteer and community responses to the COVID-19 crisis was featured by the US National Institutes of Health and the World Health Organization.
Before joining King's, Susan was a Lecturer and MSc Course Director at Aston Business School and a Research Associate at Harvard Business School. Previously she held senior management roles in the public and private sectors, focusing on SME engagement and sustainability. She earned an MPA at Harvard Kennedy School and completed a PhD in International Business Management from University of Nottingham, living more than three years at Nottingham's China campus.
At King's, she oversees the dissertation research process for the Strategic Entrepreneurship and Innovation MSc programme. Externally she volunteers as a member of the Management Committee at City Kids charity.
Are you currently accepting PhD students?
No