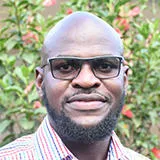 Sylvanus Wekesa
Research Associate
Research interests
International development
Conflict
Security
Contact details
Biography
Sylvanus Wekesa is a Research Associate with the African Leadership Centre (ALC) at King's.
Wekesa holds a BA in History and Political Studies from Kenyatta University and a MSc in Security, Leadership and Society from King's. Wekesa has a Doctorate in Leadership Studies with reference to Security and Development at King's.
Research
Thesis title: 'Leadership and the Politics of Borderland Communities: Integration, Peace and Security in the East African Community'
Wekesa's thesis examines the East African Community's (EAC) efforts to address the security challenges posed by the situation of borderland communities in the region. The research seeks to understand the common insecurities witnessed in two borderlands and the leadership dynamics involved in addressing these insecurities within the East African Community framework.
Wekesa's research interests include examining the role of regional economic groups in promoting peace-building and security, Kenya's foreign policy towards AU and other Africa RECs, non-institutional or alternative approaches to peace-building and security sector reform in post conflict societies and football.
Wekesa also manages a personal blog https://www.africanistview.com on topical issues in the Horn of Africa and the Great Lakes Region.
PhD supervision
Further details