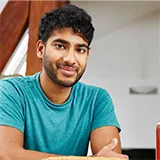 Tamal Ray
Medical professional and TV personality
Biography
Dr Tamal Ray (Medicine, 2010) got through to the final of the sixth series of the BBC's The Great British Bake Off (GBBO) in 2015 while training as an anaesthetist at Tameside Hospital in Manchester. One of the series' most popular contestants, his appearance proved to be useful in his day job, and a great ice-breaker with patients and consultants alike.
Tamal still works as an anaesthetist – baking brownies and muffins for his night-shift colleagues. Losing out on the coveted GBBO crown to Nadiya Hussain has not discouraged him from writing and presenting, he also manages to fit a monthly column for the Guardian's Feast magazine into his busy schedule. This is combined with presenting duties on television shows such as Channel 4's Be Your Own Doctor and health show Live Well for Longer, and he also took part in the 2018–19 New Year's GBBO special against other previous contestants Candice Brown, Kate Henry and Steven Carter-Bailey.
Tamal's parents moved from India to the UK in the 1960s, and he grew up in Hertfordshire and attended Haberdashers' Aske's Boys' School. Tamal's older sister played a big part in his upbringing and introduced him to baking. His sister was repaid when he baked her wedding cake and, since then, Tamal has been asked to bake for family's and friends' weddings regularly. One of his largest creations has consisted of five tiers.
While GBBO was reaching its zenith in autumn 2015, Tamal publicly came out as gay, opening up in an interview with the Radio Times and in a follow-up piece with the Huffington Post about what it was like when he first told his friends and family about his sexuality. He said that beginning his university course at King's was a turning point and was when he started to become comfortable with who he is.