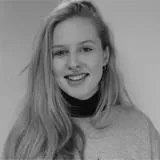 Tamsin Johnson
Corporate Analyst, J.P. Morgan Chase & Co
International Management BSc, 2020
Biography
Describe your career journey from being a student at King's to being in your current role
I joined Kings in 2016 to study International Management. Having studied German at A-level I was thrilled to be able to continue studying German for business, whilst taking modules in marketing and economics. I jumped at the opportunity to spend a year at Universitat Autonoma de Barcelona, developing my Spanish and making friends with people from around the world. That following summer I joined J.P. Morgan (JPM) on their Corporate Analyst Development internship. Since my graduation in 2020, I have been a full-time analyst at JPM on their graduate scheme, which comprises of specific skill development in three roles over two years: Data Analytics, Project Management and Process Improvement.
What's the one thing you enjoy most about your current role?
JPM is an exceptionally diverse global company, the opportunity to work with amazing and driven individuals across the world is my favourite aspect of the role. My current team are based in the UK, Frankfurt, New York and Mumbai. Alongside my day-to-day, I volunteer for a number of diversity and inclusion initiatives organised by individuals at JPM and I frequently attend language and cultural courses delivered by these diversity groups.
What have been your biggest achievements in business and your career so far?
Given my full-time career began a little over six months ago, I don't want to inflate my achievements. However, working for a large firm there are constant opportunities to develop and improve different skills. I am perhaps proudest of the virtual Escape Room I coded and hosted for a UK-wide networking event, on behalf of one of the JPM diversity groups.
How did your time at King's help with your career journey?
The International Management BSc allowed me to learn about business development and international economics. Entrepreneurial Family Firms and Political Economy of Financial Crises (taught by Elisa Alt and Karsten Kohler) were especially motivating and thought-provoking. These courses and experiences have provided me with a valuable education that I hope to apply throughout my career.
As a member of King's Business Club I was able to develop my network and learn how to define targets and meet deadlines, especially when organising society visits to Vienna and New York. King's Connect and our alumni network facilitated company visits during these trips and gave the group insight into global companies and how they used their degrees to get where they are now. I was also a member of the King's Business School Diversity Mentoring Programme in the 2019/2020 cycle, giving me the opportunity to learn from someone who was already experienced in their career.
What is the best piece of advice you have for current King's Business School students on achieving success in their careers?
It's important to enjoy your time at King's, living in London is an incredible, unique experience and just keep learning as much as you can. The network you make at King's will be invaluable, so it is exceptionally important to work closely with your peers and learn from each other.
What advice would you give to future students thinking about studying at King's Business School?
King's Business School has great facilities such as the trading floor, modern study spaces, incredible views of London and a great library. During your time there I would say to make use of the additional programmes and products on offer - for example, a free Bloomberg terminal license, a free FT subscription and extra courses offered.