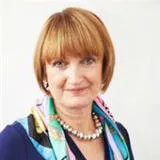 Tessa Jowell
Founding member of King's Circle of Cultural Fellows
Biography
Dame Tessa was a founding member of King's Circle of Cultural Fellows and a passionate advocate for arts and culture who was respected across the political spectrum.
Dame Tessa Jowell served as a Member of Parliament for 23 years, including 13 years as a Minister in the Labour Government and eight in the Cabinet.  Dame Tessa led the setting up of OFCOM, the foundation of Sure Start and London's successful bid to host the 2012 Olympic Games.
During her early career, Dame Tessa worked at the Maudsley Hospital as a psychiatric social worker from 1972 to 1974, before moving into the voluntary sector as Assistant Director of the mental health charity Mind and Director of a community care special action project in Birmingham. From then until her election to parliament in 1990, Dame Tessa worked for the Joseph Rowntree Foundation and was a Senior Visiting Fellow at health and social care charity, the King's Fund.
Dame Tessa was made a member of the Privy Council in 1998 and a dame in 2012. She joined the House of Lords in 2015 and took up a number of academic appointments, including that of a senior fellow at the Institute of Government and a further senior fellowship at the School of Public Health at Harvard University.
After announcing she had brain cancer in September 2017 Dame Tessa vowed to find ways to make 'better, longer lives for people with cancer'. In January, she received a standing ovation – breaking parliamentary protocol – in the House of Lords after giving a moving speech in which she urged peers to support an international initiative to share resources, research and new treatments.
Dame Tessa died on 12 May 2018 and is survived by her husband, their two children, Jessie and Matthew, and three step-daughters.