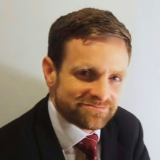 Dr Thomas Booth
Reader in Neuroimaging
Contact details
Biography
Thomas C Booth is a Reader in Neuroimaging in the School of Biomedical Engineering & Imaging Sciences at King's College London. He is also an Honorary Consultant Diagnostic and Interventional Neuroradiologist at King's College Hospital, London. His research interests are in (1) neuro-oncology (especially relating to diagnostic AI), (2) neurovascular (robotics) and (3) abnormality detection (especially relating to diagnostic AI). His PhD focus was on brain tumour treatment response assessment using pre-clinical metabolic imaging as well as adult brain tumour MRI structural images using machine learning at the University of Cambridge a decade ago – something he continues to research now as he is reminded continuously how important neuro-oncology diagnostics are in a busy London teaching hospital. On the neurovascular side, stroke imaging and aneurysm procedural work have also become areas of much research and he is developing robotics with his multidisciplinary colleagues.
He is the Chief Investigator on 5 UK multicentre and 4 NIHR portfolio-adopted prospective studies: more than 6000 patients across the UK have been recruited to these studies. His largest study relates to abnormality detection in brain MRI scans using AI.
He chairs or sits on various National and International committees - some relating to funding (e.g. NIHR) and some special interest groups (e.g. relating to brain tumours). He was an awardee of the inaugural Royal College of Radiologists Outstanding Researcher Award.