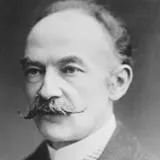 Thomas Hardy
Novelist and poet
Biography
Best known for his novels Tess of the d'Urbervilles, Far from the Madding Crowdand Jude the Obscure, Thomas Hardy (1840-1928) studied modern languages as an evening class student at King's College London from 1865 to 1866.
Thomas grew up in Dorset. His family lacked the money to send him to university, so he became an apprentice to a local architect at the age of 16. In 1862 he came to London to work and set about educating himself. During this time he immersed himself in the intellectual culture of the capital and attended evening classes at King's. Poor health led to him returning home in 1867, where he continued working as an architect whilst working on his early novels.
As well as a novelist, Thomas was also a prolific poet, playwright and short story-writer. Following the furore around the publication of Jude the Obscure in 1895, which was branded 'Jude the Obscene' by the Pall Mall Gazette, he gave up novel writing to concentrate on his poetry. His first collection was published in 1898 and included poems from the past thirty years. Some of his best-known poems were from a sequence written between 1912 and 1913, after the death of his first wife.
Thomas came to be an important influence on many twentieth century poets, with Philip Larkin crediting his work as helping him to break free of the influence of Yeats. Thomas was twice nominated for the Nobel Prize in Literature and was made a member of the Order of Merit in 1910.
Thomas died of pleurisy in January 1928. It was Thomas's wish to be buried with his first wife at Stinsford in Dorset (fictionalised in his poems and novels as Mellstock), but following his death it was suggested he should be interred at Poets' Corner in Westminster Abbey instead. A compromise was reached, with his heart being buried at Stinsford and his body in the Abbey.
Did you know?  The term 'cliffhanger' is thought to have originated from a serialisation of Thomas's novel A Pair of Blue Eyes. One of the novel's protagonists, Henry Knight, was left hanging from a cliff edge between the publication of one chapter and the next.