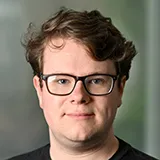 Dr Thomas Hicks
NMR Instrument Technician
Contact details
Biography
Dr Thomas Hicks is the NMR Instrument Technician for the KCL department of chemistry, based in Britannia House. In this role he is responsible for the maintenance, upkeep and development of the NMR service. In addition to this he is also responsible for assisting researchers with their use of NMR in their scientific work.
Prior to joining KCL Thomas was a member of the University of East Anglia NMR research group having completed his PhD in the study of protein-ligand and protein-protein interacts by NMR in December 2022 under the supervision of Dr Jesus Angulo and Dr Ignacio Delso.
Thomas has a broad range of research interests relating to applications of NMR ranging from the study of the physical properties of soft matter to the structural dynamics of biological systems. For enquiries related to service access, training or collaboration please email at Thomas.l.hicks@kcl.ac.uk.