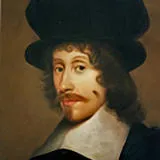 Thomas Wharton (1614 -1673)
Biography
The thyroid and the salivary glands described


Thomas Wharton was a physician at St Thomas' hospital from 1657 and remained there for the majority of his career. He was the author of Adenographia, the first thorough account of the glands of the human body, which he published at his own expense in 1656.

At that time, the nerves and lymphatics were thought to be vascular in nature and were not considered important in understanding the functions of the human body. Wharton stated that the glands excreted fluid from lymph, conveying it to nerves, and also evacuated waste material from the nervous system into lymphatic channels. He described the ovaries, the testes and their production of sperm, the breasts and their production of milk, and showed why the tongue, spleen and brain were not glands. In addition to describing the duct of the submandibular salivary gland (Wharton's duct) and the jelly of the umbilical cord (Wharton's jelly), he also named the thyroid gland. All this was the fruit of careful dissection of human and animal bodies.

Wharton was one of the few physicians not to flee London during the plague of 1665, remaining at St Thomas' Hospital to treat patients, and his commitment was commended by the Royal College of Physicians.