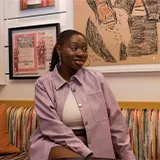 Tobi Oredein
Media entrepreneur and public speaker
Biography
Tobi Oredein (American Studies, 2011) is an award-winning women's lifestyle journalist, media entrepreneur and international public speaker, whose work focuses on topics including race, feminism, beauty politics and popular culture.
Having interned on magazines while doing her degree, Tobi took a writing role with weekly entertainment magazine TV Times after completing her studies, then worked as a forward planner at publisher IPC Media/Time Inc UK. She has been commissioned by Buzzfeed, British Glamour, The Debrief, ELLE UK, The Fader, Grazia, the Independent, The Pool, Red, Stylist, Vice and others, and has interviewed public figures such as newsreader Sir Trevor McDonald and American filmmakers Ryan Coogler and Ava DuVernay.
While working in mainstream media, Tobi noticed the dearth of black women in the offices and on the pages of magazines, and decided to take matters into her own hands, launching the website Black Ballad in 2014 with co-founder Bola Awoniyi. The pair originally set up the site as a free-access blog to tell the human experiences of black women and give underrepresented voices a platform. In 2016, they crowdfunded to transition it into the membership model that many know today. Since re-launching in 2017, the media and data company has commissioned over 350 black female creatives and worked with brands including the BBC, Dove, PUMA and Tangle Teezer. By putting black women first, Black Ballad's vision is to empower every black woman to change her world with every click she makes and every conversation she has.
Tobi was nominated for the 2017 Georgina Henry Award for Innovation in Journalism and, in 2018, alongside her Black Ballad co-founder, was placed on the Forbes 30 Under 30 list in Media & Marketing. In 2019, the Evening Standard stated that Tobi was one of six women to follow in tech. She was also voted onto the National Council for the Training of Journalists' 238 most-respected journalists of 2018.
Tobi's work was recognised in the King's Distinguished Alumni Awards when she won the King's Alumni Impact Award 2021, which is presented to a King's graduate who has made a positive impact or is enhancing the lives of others through outstanding leadership or service.