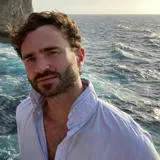 Topher Hübel
Visiting Research Fellow
Contact details
Biography
I have always been fascinated with genetics. This started in medical school ten years ago. At this point, I realised that genetics is the common feature that unites all medical fields, including endocrinology, metabolism, cancer, and even psychiatry. Genome-wide association studies (GWAS) were about to take off and started to identify genomic variation implicated in complex traits. Currently, we have limited understanding of the causes of psychiatric disorders and, therefore, treatment and preventive options are not satisfactory neither for patients nor for healthcare providers. I'm convinced that this must change and that genetics is one piece of the puzzle that must be solved to improve mental health for our and future generations.
I am an academic clinical researcher focused on studying the genetic and environmental risk factors for eating disorders. My joint training in human medicine, psychology, and statistical genetics positioned me well to become an independent researcher and clinical academic focusing on mental health. I trained as a medical doctor at the Johannes Gutenberg University, Mainz, Germany, with a concurrent double BSc degree in psychology in 2015. I completed my 'practical year' (akin to F1 in the UK system) with placements in surgery, internal medicine, and psychiatry in 2014, fully licensed to practice medicine. Currently, I have an honorary contract with the Maudsley Centre for Child and Adolescent Mental Health, working with Dr. Rachel Bryant-Waugh establishing a national reference centre for treatment of individuals with avoidant/restrictive food intake disorder (ARFID).
After moving to the United Kingdom, I did the MSc in Genes, Environment, and Development at the Social, Genetic & Developmental Psychiatry (SGDP) Centre, Institute of Psychiatry, Psychology, and Neuroscience (IoPPN), King's College London, in 2016. Subsequently, in November 2019, I graduated with a PhD in Social, Genetic & Developmental Psychiatry Research from King's College London. Since then I have been working as a postdoctoral researcher in the Translational Neuropsychiatric Genomics team of Prof. Gerome Breen on genetics and environmental risk factors of eating disorders.
Research description
Identifying biomarkers through genetic studies could facilitate the detection of individuals who are at risk for developing an eating disorder. Combining these different domains of basic scientific research (such as genetic association studies and neuroimaging) and field research with high ecological validity (like ambulatory assessment) may allow the dissection of the genetic and environmental factors underlying the aetiology of eating behaviour.
We have just launched the Eating Disorders Genetic Initiative. This is a project which aims to recruit 10,000 people in England who have experienced an eating disorder who fill in a detailed online questionnaire and who give a saliva sample for genetic analyses. EDGI has the ambitious goal of creating the world's largest re-contactable group of people with experience of an eating disorder, and who also have detailed clinical and genetic information. We want to speed up research in eating disorders to help find their causes and to identify the best treatments.