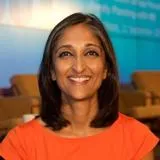 Trishna Bharadia
Contact details
Biography
Trishna Bharadia is a multi-award winning patient engagement consultant and advocate, working with multiple stakeholders to better embed the patient voice across the healthcare ecosystem and medicines development lifecycle. She works with academia, industry (pharma, CROs, health tech and others), patient groups and charities, industry associations and clinicians, both in the UK and internationally.
Her main interests and expertise lie in good and equitable patient engagement practice; diversity issues in healthcare and clinical research; patient involvement in scientific publications and health information; and empowering patients for shared-decision making and self-management.
Among her various accolades, Trishna has been made an honorary Member of the Faculty of Pharmaceutical Medicine of the Royal Colleges of Physicians and has been named a PharmaVoice 100 Honoree, both for her outstanding contributions to the life sciences industry.
She is a Patron/Ambassador for several health- and disability-related organisations. She was also Editor of the Patient Engagement Workstream for the Drug Information Association's (DIA) Global Forum magazine for two years and sits on the Editorial Board of "Neurology and Therapy" journal.
For a full list of her publications, see her ORCID ID: https://orcid.org/0000-0003-3633-729X