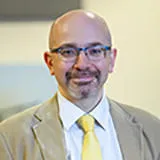 Dr Chris Tuck
Reader in Strategic Studies
Contact details
Biography
Dr Christopher Tuck is a Reader in Strategic Studies. He joined the Department of Defence Studies in 1997. Previously, Chris has been a Senior Lecturer in the Department of Defence and International Affairs at the Royal Military Academy, Sandhurst. Prior to that, he was a Research Intern at Saferworld, a foreign policy lobbying group.
Chris obtained his PhD from the University of Reading. His thesis examined issues of British strategy and war termination during the Malaysian-Indonesian Confrontation, 1963-66. He also has an MSc.(Econ.) in Strategic Studies from the University of Aberystwyth.
Research Interests
Strategy, especially in relation to conflict termination
Land warfare, in particular issues relating to future war
Counterinsurgency operations, in particular British Operations in Borneo 1963-66
Chris' research relates to two main themes: the strategic utility of landpower, and the problems of war termination.
Teaching
Chris teaches a wide range of military courses, including the Advanced Command and Staff Course. He runs an MA Special Subject on the American Civil War. He is happy to consider PhD supervision in the research areas outlined above.
Research
The centre promotes the scholarly history of war in all it's dimensions, trains research students and hosts research projects and conferences
Research
The centre promotes the scholarly history of war in all it's dimensions, trains research students and hosts research projects and conferences