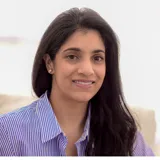 Dr Udita Iyengar
Lecturer
Contact details
Biography
I completed my MSc in Psychodynamic Developmental Neuroscience (2010) from University College London and Yale University and then conducted research at the Attachment and Neurodevelopment Lab at Baylor College of Medicine. I completed my PhD in 2016 from University College London with Professor Peter Fonagy and Dr. Lane Strathearn, and my PhD focused on maternal attachment, brain, and behavioural responses to infant facial expressions using functional neuroimaging. I joined King's College London in 2016 as a postdoctoral researcher at the SGDP, coordinating the c-VEDA project (2016-2017) and project managed the Best Services Trial in the Department of Child and Adolescent Psychiatry (2017-2022). I joined as Lecturer in the Department of Psychosis Studies (2022) and am co-leading 2 modules and co-producing a new module with experts by lived experience.
I am trained in administering and coding a variety of attachment measures using the DMM model of Attachment and Adaptation. I have previously contributed to KCL BSc Psychology and MSc CAMHS courses and was a Visiting Lecturer at the University of Roehampton, lecturing on attachment and the brain.  
Research Interests
maternal and infant attachment
maternal mental health
the neuroscience of attachment
integrating lived experience in MSc teaching
Teaching
I co-lead the Basic Mental Health and Women's Mental Health module on the MSc Mental Health Studies and teach on the MSc Mental Health Studies and the Child and Adolescent Mental Health MSc courses.
Expertise and Public Engagement
I received a KCL Public Engagement Award (2017) to create parenting course for mothers participating in Family Drug and Alcohol Court, and have contributed to the Mental Elf Blog and was a panel speaker on "Oxytocin: Birthing the World" event in 2017.  
Key Publications: 
Iyengar, U., Jaiprakash, B., Haitsuka, H., & Kim, S. (2021). One year into the pandemic: a systematic review of perinatal mental health outcomes during COVID-19. Frontiers in Psychiatry, 12, 674194.
Zhang, Y., Vaidya, N., Iyengar, U., Sharma, E., Holla, B., Ahuja, C. K., ... & Schumann, G. (2020). The Consortium on Vulnerability to Externalizing Disorders and Addictions (c-VEDA): an accelerated longitudinal cohort of children and adolescents in India. Molecular Psychiatry, 25(8), 1618-1630.