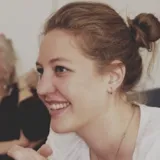 Dr Vanessa Pope
Postdoctoral Researcher
Contact details
Biography
Vanessa Pope, Postdoctoral Researcher, is coordinating the data collection and analysis for the HeartFM study. She has 10 years' experience developing interdisciplinary, collaborative projects across technology and the performing arts. Dr Pope has overseen technology research at BBC R&D, mentored developers in collaboration with Snap Inc and directed shows at the Barbican and Bush Theatre. As General Manager of IJAD Dance Company, Dr Pope communicated IJAD's vision for participatory dance with stakeholders across technology, industry, and the arts.
She developed the technical specifications for digital performance tools based on cross-disciplinary consultations, securing funding and partnerships for IJAD's hybrid digital-physical performances.
Dr Pope holds a PhD in Media & Arts Technology from Queen Mary University of London, an MA in Theatre Direction from the University of East Anglia, and a BSc in Psychology from McGill University. She is fluent in English, French and Turkish.