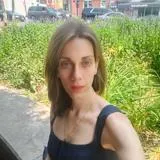 Dr Vasileia Kotoula
Lecturer in Neuroscience and Psychology
Research interests
Neuroscience
Imaging sciences
Pharmacology
Contact details
Biography
My research focuses on fast-acting antidepressants and their effects on key brain processes. Specifically, with the use of fMRI and sleep EEG, I aim to understand:
The effects of ketamine on autobiographical memory recall
How reward processing and anhedonia are targeted by fast-acting antidepressants
The role of sleep in mediating ketamine's antidepressant response.
My key research interests also include decision making mechanisms in relation to neurodevelopmental disorders. I am involved in the design and development of the online research platform www.experiama.com which aims to make data collection simple, reliable and ease for researchers and volunteers. I am the Deputy Senior Tutor for the BSc Psychology and Neuroscience.
Please see my Research Staff Profile for more detail.
Find out more about my research:
Key Collaborators:
Prof Mitul Mehta, King's College London, UK
Dr Carlos Zarate, National Institute of Mental Health, USA
Dr Argyrios Stringaris, University College London
Dr Vasilios Mantas, Aiginition Hospital, Greece