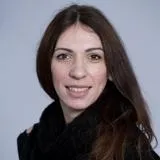 Dr Vasiliki Tzouvara BA, MSc, PhD, GMBPsS, APAM, FHEA
Lecturer in Mental Health and Psychological Trauma
Contact details
Biography
Dr Vasiliki Tzouvara is a psychologist and lecturer in mental health and psychological trauma. She completed her funded PhD programme in Health Research, rooted in mental health and psychology, at the University of Bedfordshire in 2017. She has also completed an MSc in Public Health at the University of Bedfordshire and a conversion MSc in Psychology at the University of Leicester.
Dr Tzouvara's research focuses on anxiety disorders, PTSD, adverse childhood experiences and psychological trauma in people with mental health problems. Dr Tzouvara has also a strong interest and experience in developing and evaluating novel interventions for PTSD and mechanisms for PTSD interventions.
Dr Tzouvara is currently working on how to improve trauma informed care services in mental health and on designing and evaluating assessment tools for measuring psychosocial outcomes in diabetes. Dr Tzouvara's research interest and experience focuses also on psychosocial aspects of mental health including social isolation and loneliness. Dr Tzouvara is a mixed methods research, experienced in using both qualitative and quantitative methodologies, various types of reviews and neurocognitive assessments for measuring memory, attention and brain function.Dr Tzouvara is a co-applicant in NHIR RfPB project aiming to develop a novel intervention to treat COVID-19 related post-traumatic stress disorders (PTSD) in frontline health and social care professionals and currently working with Prof Jackie Sturt on evaluating the mechanisms of a novel intervention targeting PTSD in Veterans.
Dr Tzouvara is a member of the British Psychological Society and the American Psychological Association. She is also a member of the UKRI Social Isolation and Loneliness Research Network and the UKRI Abuse, Violence in Mental Health Research Network. Dr Vasiliki is also the PhD coordinator for the Care for Long Term Care Conditions, EDI Representative for both the Care for Long Term Care Conditions and the PGR School at NMCP, King's College London.
Enquiring about potential PhD supervision
If you're thinking of applying for one of our PhD programmes and are looking for potential supervisors, please email nmpc_pgr_enquiries@kcl.ac.uk listing the names of the supervisors you've identified as having expertise in your chosen area, along with your CV and a short research proposal. Our Postgraduate Research Team will contact supervisors on your behalf and get back to you.
If you have any queries in the meantime, please use the email address above, rather than contacting potential PhD supervisors directly, because they are unable to respond to initial enquiries.
Dr Tzouvara supervises various projects in mental health, psychological trauma, trauma-informed care services and interventions targeting anxiety disorders. Dr Vasiliki also supervises projects on psychosocial aspects in mental and physical disorders and development of assessment tools for assessing psychosocial experiences. . Bsc dissertation students, Msc and MRes dissertation students, PhD students.