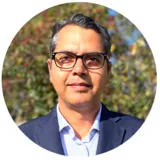 Vinay Jha
Independent Member of the College Council
Biography
Vinay Jha was appointed as an independent member of the College Council in October 2022.
Vinay, an innovator, enterprise capability composer and digital transformation leader, is currently the Chief Innovation and Digital Officer for M&G Plc. He has over 25 years of experience working within financial services, telecom and technology sectors in a multi-cultural team spanning across Asia, Europe and America.
He is a trained yoga teacher and passionate about applying technology to primary health care challenges faced in many parts of the world.