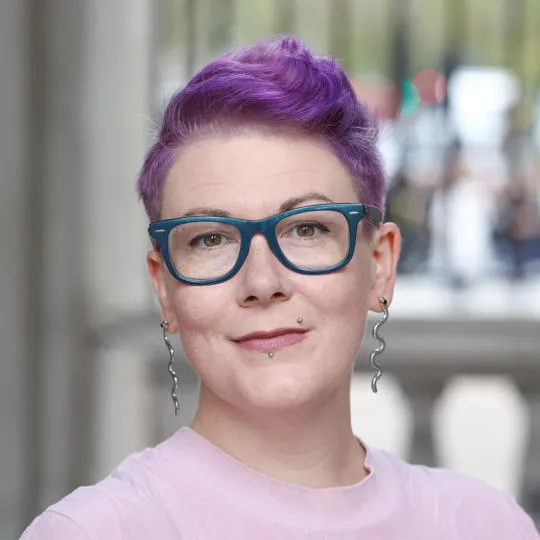 Dr Virginia Crisp
Reader in Media Industries and Cultures
Head of Department, Culture, Media & Creative Industries
Contact details
Biography
Virginia joined CMCI at King's in 2016 having previously worked at both Coventry and Middlesex Universities as a Senior Lecturer.
Virginia has an MA in Film Studies from UCL and completed her doctoral work on the distribution of East Asian cinema in the UK at Goldsmiths, University of London in 2012.
Virginia is the co-founder (with Dr Gabriel Menotti Gonring) of the Besides the Screen Network, a network that brings together academics, filmmakers, artists and industry professionals from across the globe to consider the transformation of audiovisual media practices. She was also the Principal Investigator on the AHRC networking grant attached to this project from 2014 - 2016.
Research Interests and PhD Supervision
Media distribution
Copyright infringement (media piracy)
Media Industries (esp. film and games)
Gatekeepers and Cultural Intermediaries
Virginia's research concerns the changing modes and mechanisms of media distribution: both legal/illegal and formal/informal. She is particularly interested in how issues of access, ownership, participation and control are enacted within both traditional and new media contexts.
Her monograph, Film Distribution in the Digital Age: Pirates and Professionals (Palgrave: 2015), investigates the relationship between formal and informal methods of film distribution with a particular focus on film piracy. 
Virginia welcomes PhD students related to any of her research interests. For more details, please see her full research profile.
Teaching
Virginia teaches across modules on the BA and MA programmes in CMCI on topics related to the global media industries; gaming, games cultures and the games industries; media distribution and circulation; and media audiences and fandom.
2016 - Awarded a Senior Fellow of the Higher Education Academy (HEA)
2010 - Awarded Postgraduate Certificate in the Management of Learning and Teaching at Goldsmiths, University of London
Expertise and Public Engagement
Virginia has spoken at conferences across the globe but in her work with the Besides the Screen Network she has particularly collaborated with artists, curators and academics in Brazil. She has organised events workshops, screenings and conferences in Brazil in conjunction with the University of São Paulo (USP), the Catholic University of São Paulo (PUC-SP) and the Federal University of Espírito Santo (UFES)
Selected Publications
Crisp, Virginia (2022) 'Shifting Gatekeepers: Power and Influence in Informal Online Film Distribution' In Stefano Baschiera and Alexander Fisher, eds. World Cinema on Demand: Global Film Cultures in the Era of Online Distribution, London: Bloomsbury, pp. 15 - 30.
Crisp, Virginia (2021) 'Disingenuous Intermediaries: The Gatekeeping Power of Distributors and Publishers' In McDonald, P., Havens, T. and Brannon Donoghue, C. Digital Media Distribution: Portals, Platforms, Pipelines New York: New York University Press, pp. 77 – 99.
Crisp, Virginia and Gabriel Menotti Gonring (eds.) (2020) Practices of Projection: Histories and Geographies, Oxford: Oxford University Press.
Crisp, Virginia (2018) 'Release Groups & The Scene: Re-intermediation and Competitive Gatekeepers Online' Cinéma&Cie: International Film Studies Journal, Special Edition – Re-intermediation: Distribution, Online Access, and Gatekeeping in the Digital European Market, pp. 67 – 80.
Crisp, Virginia (2015) Pirates and Professionals: Film Distribution in the Digital Age, London: Palgrave.
Media Appearances:
May 2013 - interview for the KZSU-FM (Stanford University) radio interview show and podcast Hearsay Culture (available for download at http://www.hearsayculture.com/?page_id=2).
December 2012 - interviewed by Professor Toby Miller for the cultural studies podcast. Available at: http://culturalstudies.podbean.com/2012/12/20/virginia-crisp-on-filesharing-piracy-is-property-theft-why-is-everyone-playing-table-football/