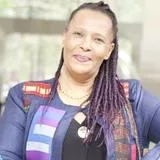 Professor Wangui wa Goro
Visiting Academic
Biography
Professor Wangui wa Goro is a Visiting practitioner as part of the Practice of Leadership programme with the African Leadership Centre.
She has enjoyed a multidisciplinary life, spending over forty years as a public intellectual and having spoken extensively in many parts of the world. She is a widely acclaimed translator, writer, poet, academic, cultural curator, editor with a great passion for languages, literature and intersectional freedom.
She is best known for her scholarship as a translation theorist, critic, practitioner and promoter, including its practical applications. She has spent a large part of her adult life as an academic, working across cutting areas of education, sociology, translation, literature, teaching, criticism, curation, research and service in different parts of the world.
Wangui works in an International Development Organisation and also runs the international intercultural dialogues Africa in Translation (AiT) through SIDENSI. She has served in many academic, literary organisations, and on academic journals, magazines and prizes, and supported publishing houses as a reader/critic and as a media commentator and served on many academic boards and literary committees, including serving as Co-Convenor of the Women's Caucus of the African Studies Association and the Deputy President of the African Literature Association.
She is also the founder member of TRACALA, the Translation Caucus of the ALA and she also serves on the executive committee of International Association of Translation Studies (IATIS). She holds an Honorary Professorship of Practice in Translation at SOAS and Visiting Professorship at King's.
Her recent fictional work has appeared in the highly acclaimed 'New Daughters of Africa' edited by Margaret Busby, and she is well known for her translations of Ngugi's wa Thiong'o's earlier work and Veronique Tadjo's work, 'As the Crow Flies' from French amongst other translations through which she continues to break new ground for, in and across African literatures, such as her works from French, Italian, Kiswahili and Gikuyu.
Her own fiction work 'Heaven and Earth' in 'A Half a day and other stories' (MacMillan) edited by Ayebia Clarke was taught on the Kenyan curriculum for several years, and her story 'Deep Sea Fishing' edited by Ama Ata Aidoo (Ayebia) appeared in the award-winning 'African Love Stories'.