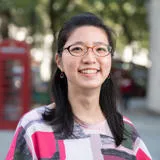 Dr Wei-Ning Yang
Lecturer in Human Resource Management and Organisational Behaviour
Research interests
Human Resource Management
Contact details
Biography
Wei-Ning (Winnie) Yang is a Lecturer in Human Resource Management and Organisational Behaviour at King's Business School. Before joining King's in March 2017, she worked at Alliance Manchester Business School, University of Manchester.
This is also where she earned a PhD in Business and Management (2016). Winnie holds a Master's degree in Business Administration from National Chengchi University (2010) and a BA and BSc in Management from National Tsinghua University (2007) in Taiwan.
Winnie has experiences of teaching core Work Psychology topics to both undergraduate and postgraduate students, including leadership, recruitment and selection, teamwork, work motivation, and stress at work. Her research interests are mainly related to career management.
Specifically, she is interested in career plateau and the factors that influence its impact on individual work attitudes and behaviours. Using a longitudinal research design, her research investigated how employee age and their expectations would affect their attitude and performance.