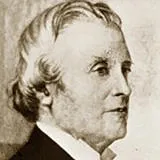 Professor Sir William Bowman (1816 – 1892)
Biography
Connecting microscopic structure to everyday function


Sir William Bowman had a profound influence on the study of anatomy by relating microscopic structure to function. He had a particular interest in the kidneys, the eye and the liver. At 21 he joined the medical department of King's College London, and was later appointed as a surgeon to the college's new teaching hospital. At the unusually early age of 25, he was made a fellow of the Royal Society. He was elected joint professor of physiology and general anatomy at King's College Hospital in 1848 (with Robert Bentley Todd) and retained connections with the hospital to the end of his life.

The first part of his life was devoted to anatomical  research (culminating in the publication with Bentley Todd of The Physiological Anatomy and Physiology of Man, 1845-56). After 1850 he became a leading ophthalmic surgeon, the first in England to become expert in the use of the ophthalmoscope. Having played a large role in its foundation, he was elected first president of the Ophthalmological Society of the United Kingdom.

A friend of Florence Nightingale, Bowman helped to establish the St John's House and Sisterhood to provide trained nurses for the sick and poor. He gave his name to several structures in the human body: Bowman's capsule in the kidney, Bowman's glands in the olfactory mucosa and Bowman's membrane in the cornea.