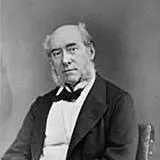 Professor Sir William Fergusson 1st Baronet FRCS FRS (1808-1877)
Biography
A fast operator and surgeon to Queen Victoria


'The great master of his craft, the greatest practical surgeon of our time.'
(Sir James Paget)

Fergusson was appointed as Professor of Surgery to the newly opened King's College Hospital in 1839 when he was just 32, and remained a surgeon at King's for 37 years, until his death. Today, a ward in King's College Hospital is named after him. He was famous for the speed at which he worked – a great advantage in the days before anaesthetics. It was said that if you blinked during one of his lithotomies, you would miss it entirely. In 1849, Fergusson was appointed surgeon-in-ordinary to Prince Albert, and in 1855 surgeon-extraordinary; in 1867 he became sergeant-surgeon to Queen Victoria.

Fergusson's name is linked with operations on harelip and cleft palate, the excision of joints and amputations of limbs. He extended the principle of 'conservative' surgery, preserving parts of the body which would otherwise have been amputated, and revived the neglected operation for cleft palate.

Fergusson was known to be ambitious and something of a dandy. He travelled about London in a bright yellow coach, called by his students 'the mustard pot', attended by two postilions and two specially-trained Dalmatians.