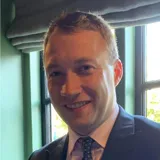 Dr William Fletcher
Lecturer in Defence Studies Education
Contact details
Biography
Dr William Fletcher is Lecturer in Defence Studies Education. He has taught in the School of Security Studies at King's College London since 2016 in both the War Studies and Defence Studies Departments, first as a Graduate Teaching Assistant and then as a Teaching Fellow, before being appointed a Lecturer in 2020. In 2021 he became the module convener for 'Command & Operations' on the Intermediate Command and Staff Course (Land).
William was awarded his PhD from the Defence Studies Department in 2019. His thesis explored the changing character of command and staff systems during the French Revolutionary and Napoleonic Wars. It focused on the influence of European staff systems on the British system, the importance of the foundation of the world's first Staff College at High Wycombe in 1799 and the developing role of the operational staff of the British Army during the period, particularly at Wellington's Headquarters.
William is an Associate of King's College, a member of the Society for Military History, the British Commission for Military History, the Royal United Services Institute, the Army Records Society, the Society for Army Historical Research and the Waterloo Association (currently serving on the committee).
Research Interests
The History of War (particularly the French Revolutionary and Napoleonic Wars, the First World War and the Second World War)
Command and Staff Systems
The Development of Professional Military Education
Learning, Innovation, Adaptation and Flexibility in War
Manoeuvre Warfare 
Research
The centre promotes the scholarly history of war in all it's dimensions, trains research students and hosts research projects and conferences
Research
The centre promotes the scholarly history of war in all it's dimensions, trains research students and hosts research projects and conferences