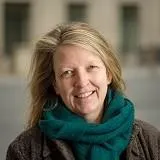 Angela Wright
Lecturer in Religious Education
Research interests
Philosophy and religion
Arts, culture and media
Contact details
Biography
Angela joined the School of Education, Communication & Society at King's in 2001, having previously been director of the PGCE in Religious Education at University College London's Institute of Education, and resources officer at the National Society's Religious Education Resource Centre.
Prior to her work in initial teacher education, she worked in two secondary schools in London. She was awarded a Sir Halley Stuart teacher fellowship, which enabled her to spend time on research at Culham College, preparing the way for the development of the GCSE Religious Education short course.
Angela has been actively involved with the promotion of a 'Critical Religious Education' pedagogy, through publications, conference presentations and webinars. CRE has an online presence both with a website and on social media. 
She currently teaches on the PGCE in Religious Education.
Please see Angela's  Research Staff Profile.
Selected publications: 
Brandom, A., Richardson, C., Shepherd, J. and Wright, A. 'The Role of the Mentor in Initial Teacher Education' in Gibbons S. et al. (2023) Becoming a Teacher (6th edition), Routledge.
Brandom A and Wright A (2020) 'Supporting EAL pupils in the RE classroom' in EAL journal Issue 10 Autumn 2019, p.44-48 NALDIC.
Wright, A., Easton, C. & Goodman, A., 2018, Critical Religious Education: a teacher's guide for the secondary classroom, Routledge/Falmer.
Wright, A., 2013, Learning to Teach Religious Education in the Secondary School: A Companion to School Experience, Second Edition. Taylor and Francis, p. 112-126