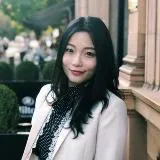 Yiqin Huang
PhD student
Contact details
Biography
Yiqin Huang is a PhD student in the Lau China Institute. Her research primarily focuses on state-society relations in different political contexts, especially how the policy, media and public agendas interacted with each other in the context of China. She is also interested in North Korea and China relations, asymmetric conflict and online political participation.
Yiqin obtained her MSc in Public Policy from University College London (UCL), a MA in Global Communication from Communication University of China (CUC) in Beijing, and BA in Media Creativity in CUC.
Prior to King's, she worked for China Central TV as a scriptwriter in global affairs program and produced interviews with several foreign state leaders, including the former British Prime Minister Theresa May, the UN secretary António Guterres, the Portuguese Prime Minister Antonio Maria Costa, the President of Italy, Sergio Mattarella and the Prime Minister of Norway, Erna Solberg, and others.
Research
Thesis title: 'The role of Chinese public opinion in the asymmetric relations between North Korea and China'
PhD supervision
Further details