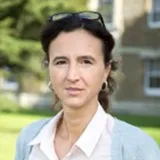 Yolanda Calle-Patino
Senior Lecturer
Biography
Born in Bilbao, Spain in 1969, Yolanda completed her BSc and PhD in Cell Biology at the University of the Basque Country studying the role of glycoproteins in the interaction of melanoma cells with the endothelium of target organs for metastasis. In 1999, she spent one year in the group of Herbert (Herb) Geller at Robert Wood Johnson School of Medicine in Rutgers University in New Jersey, US where she worked on the role of proteoglycans during axonal interactions with astrocytes during nerve regeneration.
In 2000, she joined Gareth Jones' lab to study the regulation of cell adhesions called podosomes in leukocytes. During this time, she obtained a Wellcome Trust Fellowship in 2003 to understand the molecular mechanisms involved in podosome turnover. Her work as part of the Jones' lab in collaboration with Adrian Thrasher from the Institute of Child Health at UCL and Ines Anton from the CSIC, Spain, led to an in-depth understanding of the regulation of the protein WASP and its interactome in podosome formation and leukocyte migration. In 2006, she then became a lecturer in the Department of Haematology where in collaboration with the clinical teams at King's College Hospital she started a research program in multiple myeloma.
Since 2012, she has been a Senior Lecturer at the University of Roehampton where she studies the role of cell adhesion and cytoskeletal remodelling in the interactions of drug-resistant cancer cells with the tumour microenvironment. She has also developed a drug discovery program focused on haematological cancers to block cytoprotection mediated by the bone marrow microenvironment in multiple myeloma and Acute Myeloid Leukaemia.