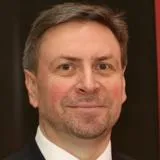 Mr Yury Bikbaev
Project Lead
Contact details
Biography
Mr Yury Bikbaev, Project Lead, is also President of QPA Strategies Ltd and has been working with King's Forensics since 2015 when putting together an international consortium for the World Bank tender to deliver the 'Strengthening Forensic Capacity' project as part of the larger Justice Sector Institutional Strengthening collaboration between the World Bank and Kazakhstan's Ministry of Justice. The project commenced in 2016, where Yury served as the Project Leader, with King's College London and QPA Strategies as consortium members. Stemming from the success of this World Bank project a further bespoke training engagement with Kazakh scholars began in 2018, funded by the Bolashaq scholarship programme.
To date, three cohorts of Bolashaq scholars have come to King's, where Yury engages in all stages of each bespoke programme from key stakeholder liaising and participant recruitment to design and implementation to post-delivery support, as well as various aspects of student activities while on campus at King's. In his work Yury draws on a career experience which spans over 25 years across a number of industries in Europe, Asia, Middle East and the Americas, including working for over a decade as a Programme Director in charge of custom programmes at the London School of Economics and Political Science (LSE). In this role, he engaged with counterparties in more than 30 countries across five continents and concentrated on long-term branded collaborations between LSE, its clients, academic and practitioner experts, and consultants from the UK and internationally.
Yury holds an MBA specialising in Finance, an MSc in International Political Economy, and a BA in Industrial Technology.