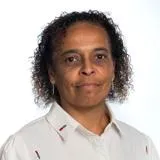 Mrs Yvonne Batson-Wright
Stage 2 Liaison and Support Lead/Senior Tutor in Clinical Communication
Contact details
Biography
I have two part time roles across KCL.
I work as Stage 2 Liaison and Support Lead in KUMEC (Kings Undergraduate Medical Education in the Community) which involves providing pastoral support for students. Additionally, I am a tutor and Educational Supervisor on the Stage 2 Longitudinal Placement.
I also hold the position of Senior Tutor in Clinical Communication which involves clinical communication teaching in the MBBS degree within the Values-based Clinical Practice longitudinal theme.
My interests include Coaching, Equality Diversity and Inclusion, Inter-professional education and leadership. I recently achieved an MA in Clinical Education in which I conducted research on the value of leadership skills for Stage 2 Year 2 students and how to support students to develop leadership skills to prepare them for future roles as doctors.