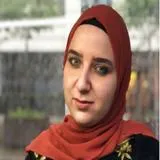 Ms Zeynep Nas
Research student
Contact details
Biography
PhD studentship, Social, Genetic & Developmental Psychiatry Centre, Institute of Psychiatry, Psychology and Neuroscience, Kings College London (2018 - present)
MSc in Genes, Environment & Development in Psychology & Psychiatry (Distinction), Social, Genetic & Developmental Psychiatry Centre, Institute of Psychiatry, Psychology & Neuroscience, King's College London (2017/2018)
BSc Psychology (First Class with Honours), Goldsmiths University of London (2014-2017)
Project:
"Exploring the aetiology of anxiety and its associations with physical health and health-related quality of life".
Research overview
I am a PhD student at the SGDP Centre supervised by Fruhling Rijsdijk and Chloe Wong.
My research interests primarily lie in the associations between anxiety and physical health. I aim to use multiple statistical methods to explore this, primarily using the twin method to disentangle the genetic and environmental aetiology and associations between the two domains. I am interested in extending this research to non-western populations by utilising the Colombo Twin and Singleton Study (COTASS) based in Sri Lanka. I also aim to explore my research interests using epigenetics methods, primarily focusing on DNA methylation. I am keen to learn and apply other statistical genetics methods (Polygenic Risk scores, LD score regression, Genomic SEM) to further understand the genetic links between anxiety, health and health-related quality of life.
Awards
1+3 (MSc + PhD) Studentship awarded by the Social, Genetic & Developmental Psychiatry Centre, Institute of Psychiatry, Psychology & Neuroscience, King's College London, 2017-2021.