Health
Who wants to be an Approved Mental Health Professional?
Final report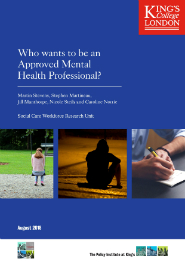 Stevens, M., Martineau, S., Manthorpe, J., Steils, N. and Norrie, C. (2018) 'Who wants to be an Approved Mental Health Professional?' London: Social Care Workforce Research Unit, King's College London.
A four page summary document is also available.
We introduce this report on the Unit blog.
Published 5 September 2018
About this study
The overall aim of the research was to identify factors encouraging and discouraging the recruitment of mental health and learning disability nurses, chartered psychologists and occupational therapists as Approved Mental Health Professionals (AMHPs).
Funding
NIHR Policy Research Programme
Background
Since 2008, a range of registered and professionally qualified mental health professionals, namely chartered psychologists, mental health and learning disability nurses and registered occupational therapists (OTs) can become AMHPs, as well as social workers. AMHPs are empowered to make decisions in relation to people who have been removed to a place of safety by the police, and to coordinate decisions about whether a person will be offered inpatient hospital care, either on a voluntary or statutory basis. Almost a decade after widening the recruitment net, only 5.5% of AMHPs are not social workers, despite there being a shortage of AMHPs.
Methods
A multi-method approach was adopted to explore different perspectives on the recruitment and retention of AMHPs. Four separate aspects of the research were undertaken:
Interviews with nurses, psychologists, and OTs
A survey of Local Authorities
Interviews with people with mental health problems and their families
Interviews with professionals (police, psychiatrists, managers, commissioners, regulators) working within and with mental health and associated services
Timetable
May 2017 - September 2018
Note on the research team
This project was led by Dr Martin Stevens. Martin died in March 2022.
See also
Project status: Completed