Technology & Science
Health
BEST4
Early diagnosis of cancer oesophagus is essential to reduce mortality from this disease. The Cancer Prevention Trials Unit (CPTU) and Rebecca Fitzgerald's Group in Cambridge have been working together over several years to pioneer a new early detection programme for Barrett's and oesophageal cancer.
Cancer Research UK (CRUK) and the National Institute for Health and Care Research (NIHR) are supporting the £6.4million implementation BEST4 trial (co-led by Peter Sasieni and Rebecca Fitzgerald) designed to provide the cancer detection and mortality data necessary to establish whether Cytosponge-TFF3 test could be used as part of a routine screening programme in individuals with a history of heartburn.
The trial aims to start recruitment in October 2023 in centres across the UK. 
We will be recruiting a team of clinical research professionals to run this trial shortly, please check our vacancies page here.
Aims
Demonstrate Cytosponge's impact on oesophageal cancer mortality when offered as a 'screening' test to individuals on medication for heartburn who have not been investigated by endoscopy. The BEST4 screening study will recruit 120,000 participants, of whom 40,000 will receive Cytosponge in mobile units located in 5 UK regions.
Investigate whether Cytosponge could be used as the primary surveillance instead of endoscopy in patients with non-dysplastic Barrett's Oesophagus. In the BEST4 Surveillance study (N= 1,900), individuals identified with Barrett's will also be offered monitoring or surveillance with Cytosponge coupled with additional lab biomarker tests to see if they could avoid endoscopy for their follow-up in future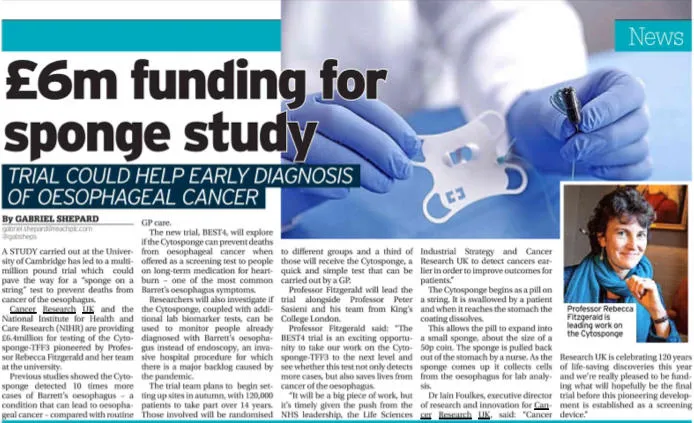 Patient and Public Involvement (PPI)
A pilot study of the invitation text message and online survey was carried out in July 2021, in collaboration with iPlato Healthcare. This exercise enabled the research team to project uptake rates.
The research questions, rationale and study design have been presented to Action Against Heartburn and Heartburn Cancer UK (HCUK). The chairperson of HCUK has offered for the organisation to contribute to the co-development of participant-facing or more generally public-facing communications related to the project.
An in-depth programme of PPI work is proposed for BEST4, which includes:
Collaborative work between our behavioural scientists and previous Cytosponge patients to develop participant-facing materials that effectively convey information about the trial and the experience of the Cytosponge procedure. This will be followed by iterative cognitive interviewing with members of the public, which involves comprehensively testing out the participant-facing material to identify any potential comprehension issues,
Workshops and interviews with people who have and have not had the Cytosponge experience before, to understand what barriers there are to participating in the BEST4 studies. This will enable the study team to identify potential issues that participants may face and to offer information or support to address those issues.
PPI input on the selection of outcome measures. A behavioural scientist will work collaboratively with people who have had an experience of the Cytosponge procedure to collectively consider and choose outcome measures (such as those related to subjective experience) that capture important elements of the experience.
Governance
This work is funded by Cancer Research UK (SEBSTF-2021\100036, CRUK/22/005) and the NIHR HTA programme (NIHR135565).
The trial is jointly sponsored by Cambridge University Hospitals NHS Foundation Trust and the University of Cambridge.
The Cancer Research UK and King's College London Cancer Prevention Trials Unit (CPTU) is responsible for the day-to-day trial operations.
The clinical team at the CRUK Cambridge Centre Early Detection Institute, University of Cambridge, is responsible for answering participants' enquiries and coordinating referrals.
The BEST4 platform
BEST4 will also generate a resource for additional translational work, for example:-
Behavioural research looking at the awareness of symptoms to look for and any other biomarkers indicating people may be at risk
Studies on natural history and progression biomarkers using Cytosponge and/or endoscopic samples
Development of different risk algorithms based on clinical, demographic and biomarker factors.
Comparison of Cytosponge with other technologies including saliva and blood etc.
Researchers interested in performing such studies will require funding through the usual routes and submit an application to the BEST4 steering committee (cptu@kcl.ac.uk). We are very keen to maximise the utility and benefit of this resource to the entire community.
The Cytosponge
Cytosponge-TFF3 is a simple pill-on-a-string and lab test, pioneered by Rebecca Fitzgerald and her team at Cambridge University, to detect Barrett's Oesophagus in an office or GP setting. CRUK has supported the development of Cytosponge and the related biomarkers, throughout its history (in partnership with other funders). The BEST3 trial designed and led by Peter Sasieni at Kings College London, showed a ten-fold increase in cases of Barrett's picked up vs. usual care and diagnostic pathways, in a population receiving long-term medication for heartburn symptoms. While the BEST3 results were impressive, this trial was not powered to assess impact of diagnosing more Barrett's oesophagus on reducing mortality from oesophageal cancer.
NHS England and NHS Scotland are undertaking implementation pilot studies, primarily driven by a need to deal with the endoscopy bottleneck – currently patients in primary care with recurrent reflux suspected of Barrett's would be referred for endoscopy. Endoscopy services are already overstretched and have been delayed/cancelled due to COVID (aerosol risk); use of Cytosponge in these patients could rule out Barrett's and decrease endoscopy referrals. NHS England is therefore currently running a Cytosponge service delivery pilot in secondary care for these patients as well as using the Cytosponge as an adjunct to endoscopy for patients in Barrett's surveillance programmes. These data will complement the BEST4 trial which is essential to see how we proactively identify people at risk rather than waiting for them to be referred for endoscopy due to symptoms.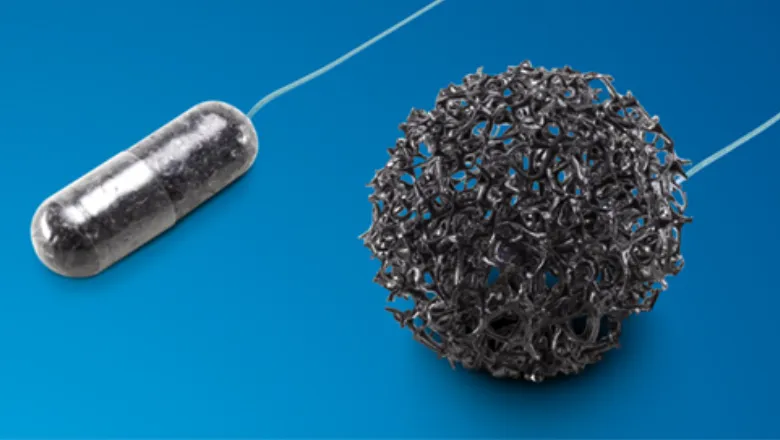 Our Partners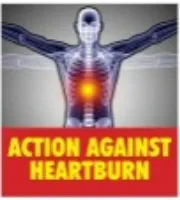 Action Against Heartburn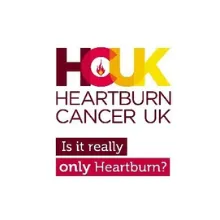 Heartburn Cancer UK

National Institute for Health Research (NIHR)

University of Cambridge