Health
Cannabidiol for Parkinson's Disease Psychosis (CAN-PDP) Trial
Aims
The CANnabidiol for Parkinson's Disease Psychosis trial is a clinical drug trial investigating whether cannabidiol (or CBD) is a safe and tolerable treatment for reducing psychotic symptoms (such as hallucinations and delusions) in patients with Parkinson's disease. We are open for recruitment in multiple sites across England and Wales.
Why is this study important?
About 60% of Parkinson's disease (PD) patients experience symptoms like seeing/hearing/feeling things that are not really there, which are hallucinations, and strange beliefs, which are delusions. These symptoms are referred to as Parkinson's disease psychosis (PDP).
The current treatment strategies for PDP are either not very effective, safe, or convenient for everyday use, so, we are looking at cannabidiol (or CBD) as a safer, more tolerable alternative treatment.
What is CBD?
CBD is a non-addictive chemical that is naturally found in the cannabis plant. Research has shown that CBD may safely and effectively reduce psychotic symptoms, but this has not been tested for psychosis specifically in PD patients who are taking other medications.
What are the aims of this study?
CBD has not been widely investigated in Parkinson's disease, so, we are aiming to investigate whether it is a safe, tolerable, and effective medication when these patients take at the ideal dose that we identified in the previous phase of the study. We are also interested in whether CBD interacts with any other medications.
We are also conducting a brain imaging sub-study to investigate the brain changes that occur in PDP and whether CBD reduces these changes.
Trials Design
In the current phase of the study, half the patients will randomly be selected to receive CBD and the other half will receive placebo (which is a "dummy" pill) and neither the participant nor the research team know which the patient is taking.
We have multiple hospitals across England and Wales that are accepting participants (see the "Participating sites" section).
For the main study, we aim to recruit 120 participants with Parkinson's disease psychosis in total (across all sites).
For the brain imaging sub-study, we aim to recruit 40 patients with Parkinson's disease psychosis, 20 patients with Parkinson's disease (no psychosis), and 20 healthy participants (no Parkinson's disease or psychosis).
Study period: October 2020 – September 2024
What does taking part in the trial involve?
There will be 6 visits (each lasting between 30 minutes and 3 hours) over a span of about 18 weeks. Five of those visits will be in-person and the final visit will potentially be over the phone. Participants will take medication for 12 of the weeks.
The visits will involve assessments including questionnaires on a range of symptoms (e.g., motor and psychological Parkinson's symptoms) and abilities (e.g., memory), physical examinations, and blood tests. Not all of the assessments will be carried out at every visit.
Who can take part?
A person can take part in the CAN-PDP study if they…
Are aged 40 or older
Have been diagnosed with PD by a neurologist
Experience hallucinations and/or delusions that started after their PD diagnosis and have been going on for at least a week
Are able to swallow oral medication
Have been stable on any Parkinson's medications or antipsychotic treatment for at least one month
Are not taking clozapine
Have a reliable caregiver who can give information about them
For the brain imaging sub-study, you must live in or near to South London.
Our Partners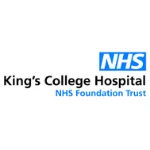 King's College Hospital NHS Foundation Trust
Project status: Ongoing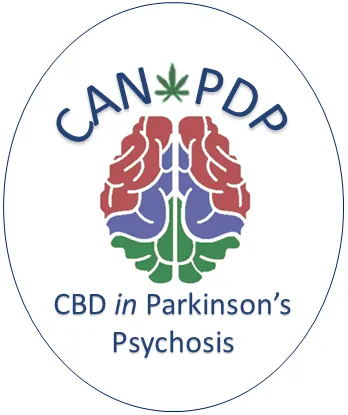 Keywords
CANNABIS
PARKINSON'S