Arts & Culture
Society
Health
Decoding Difference
Find out more about this sound and light installation using data that was captured in real-time reflecting changes in the artist's blood glucose levels and heartbeat.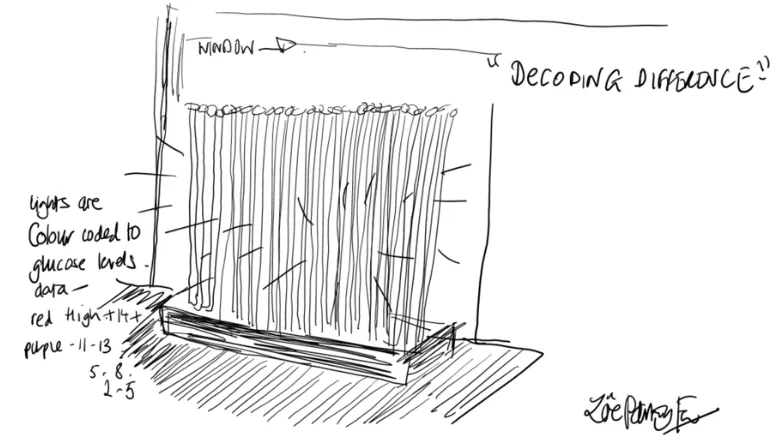 Artist's sketch of the Decoding Difference installation. Credit Zoe Partington-Beck.
About Decoding Difference
Living well with technology involves developing ever-more sensitive modes of self-relation and self-attention. Decoding Difference highlights the positive role that digital technologies can play in improving wellbeing and life quality of disabled people. The sculpture is the artist herself and reflects Zoe Partington-Beck's hidden impairment.
The lights mirror Zoe's changing blood glucose levels, transmitted directly from an implant in her body. The implant technology allows her to manage her life with diabetes, a hidden impairment, and other people's negative perceptions. Zoe's heartbeat resonates in the background representing life, strength and joy.
The piece was originally commissioned as part of the Layers of Vision exhibition at King's, which was based on ongoing research exploring how museums in the UK make their art collections accessible to blind and partially sighted visitors.
---
Credits & Supporters
Artist: Zoe Partington-Beck
Research: Dr Katharina C. Husemann, Dr Anica Zeyen and Dr Leighanne Higgins 
Build and Programming, Craig Clarke, Beatroot AV
Access Advice: Shape Arts 
Funding: King's Business School Faculty Innovation Fund 
Find out more about 'Seeking Connection' at the 2023 London Design Biennale here.