Health
EPiC-HFT
This clinical trial will investigate if home High-Flow Therapy (HFT) improves 12-month admission-free survival (time to readmission or death) following a severe exacerbation of COPD requiring hospitalisation. This is an area of unmet need, given the demonstrable limitations to current interventions which are costly, have extensive side-effects, limited availability and variable efficacy. If this this clinical trial demonstrates clinical and cost effectiveness of HFT, this technology could be rapidly incorporated into routine NHS clinical practice.
Aims
To identify whether home HFT in addition to usual medical care improves 12-month admission-free survival following hospitalisation with a non-hypercapnic exacerbation of COPD.
Trials Design
This is a multi-centre randomised controlled trial in which patients hospitalised with COPD exacerbation are randomised to receive home HFT and usual care or usual care alone with a 12-month follow-up period.
Project status: Ongoing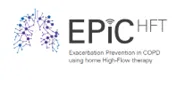 Investigators
Funding
Period: March 2023 - February 2027