K+ is a supportive development programme for year 12 and 13 pupils in London and parts of Essex who have the potential to go to top universities.
What is K+?
The K+ programme is King's College London's flagship widening participation project. Each year we work with over 700 year 12 and year 13 students from London and parts of Essex, supporting them in their decision-making about life after school or college.
The two-year programme prepares students for academic life at Russell Group universities. It also enables students to engage with cultural and social aspects of higher education. Students are organised into eight subject streams based on what they wish to study. Within these streams, students explore student life, attend lectures and seminars and work with PhD students to produce an academic project.
What are the benefits of taking part?
K+ graduates are eligible for a two-grade reduced offer for most King's undergraduate courses. K+ alumni who go on to study at King's receive a bursary of £1,000.
We know some students have access to extra support and development opportunities outside of school which help them get to university. The K+ programme supports K+ students to have access to the same experiences, to make their applications as strong as possible, and ensure once they get to university that they are as prepared and able to succeed.
In addition to the main programme, K+ participants can also take part in these networks:
Aspire
The Aspire network is open to K+ participants of African, Caribbean and mixed Black heritage. Aspire works with King's African and Caribbean Society to run cultural, academic and careers-based events at King's. Aspire is dedicated to improving university access for Black students and aims to foster a sense of community for Black students on K+. Eligible participants can join Aspire after their K+ induction.
Pride Power
The Pride Power network is open to K+ participants who identify as LGBTQ+ or active allies. It is a safe space for students to build relationships, develop confidence and celebrate LGBTQ+ culture. Eligible participants can join Pride Power after their K+ induction.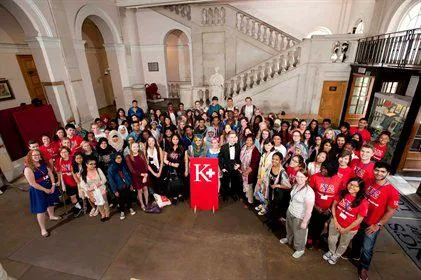 "K+ helped me get to university. I'm now studying Business and Economics and am also a student ambassador for King's"
Who can take part?
We welcome applicants that meet the criteria below and have an interest in studying at university:
Currently in year 12.
Live in Greater London, or South Essex (Thurrock, Basildon, Castle Point, Rochford).
Attend a non-selective state school.
Have 8 GCSEs at grades 4-9 (including English and Maths), and within this a minimum of five grades 6-9.
Do not have parent(s) or carer(s) who have studied at university in the UK or abroad.
Students interested in the Medicine or Dentistry streams, should meet the above, and these grade requirements:
Have 8 GCSEs at grades 4-9, and within this a minimum of five grades 7-9, and at least a level 6 in English and Maths.
Medicine stream applicants must be studying both A-Level Biology and Chemistry, or the Access to Medicine course.
Dentistry stream applicants must be studying either A-Level Biology or Chemistry.
Please note, grade requirements may be waived for students who:
live or have lived in local authority care and/or
are estranged from their parents, and/or
are a forced migrant (including asylum seekers and refugees), and/or
have Gypsy, Roma, Traveller heritage.
When & where does it take place?
Students join the programme in year 12, with events taking place between January and June. Year 12 students also take part in a four-day summer school in the summer holidays.
In year 13 events take place between September and June. The programme will not require year 13 students to miss any school time.
Events take place at our campuses in London and online.
How do I apply?
Applications open annually in September for year 12 applicants. Please contact the K+ team if you have any questions at kplus@kcl.ac.uk. To find out more about K+ and to apply please visit the K+ website.