Sustainability Interdisciplinary Research Forum
Please note: this event has passed
---
This hybrid event will showcase sustainability research across King's and explore how interdisciplinary research can be strengthened.
The King's Climate Action Network (CAN), made up of staff, students, and alumni, is working to drive climate action across the university. One of the goals of the research team is to foster stronger interdisciplinarity across departments and climate research groups among researchers. To that end, King's Business School and CAN are organising an interdisciplinary research event during Sustainability Month (February 2022) to showcase work taking place in different departments and encourage linkages across King's. This is an internal event open to King's faculty, researchers and PhD students. 
The event will include presentations from 6 speakers from different faculties and departments, followed by a networking opportunity, and a Q&A and discussion. The speakers are:
Frans Berkhout - King's Climate Hub (Geography)
Leslie-Anne Duvic-Paoli - Climate Law and Governance Centre (Law School)
Hillary Briffa - Environmental Security Research Group (War Studies)
Barbara Shollock - Net Zero Carbon Futures (Natural, Mathematical & Engineering Sciences)
Gulshan (Cindy) Sethi - Medical Education (Life Sciences & Medicine)
Fatima Wang - Marketing (Business School)
The event will take place on Wednesday, 2nd February 2-4 PM (entry from 1.50 PM) in the Bush House auditorium, plus an opportunity to network afterwards. There will be a live recording for those wishing to attend online. Registration both for those wishing to attend online and in person can be done via this Eventbrite.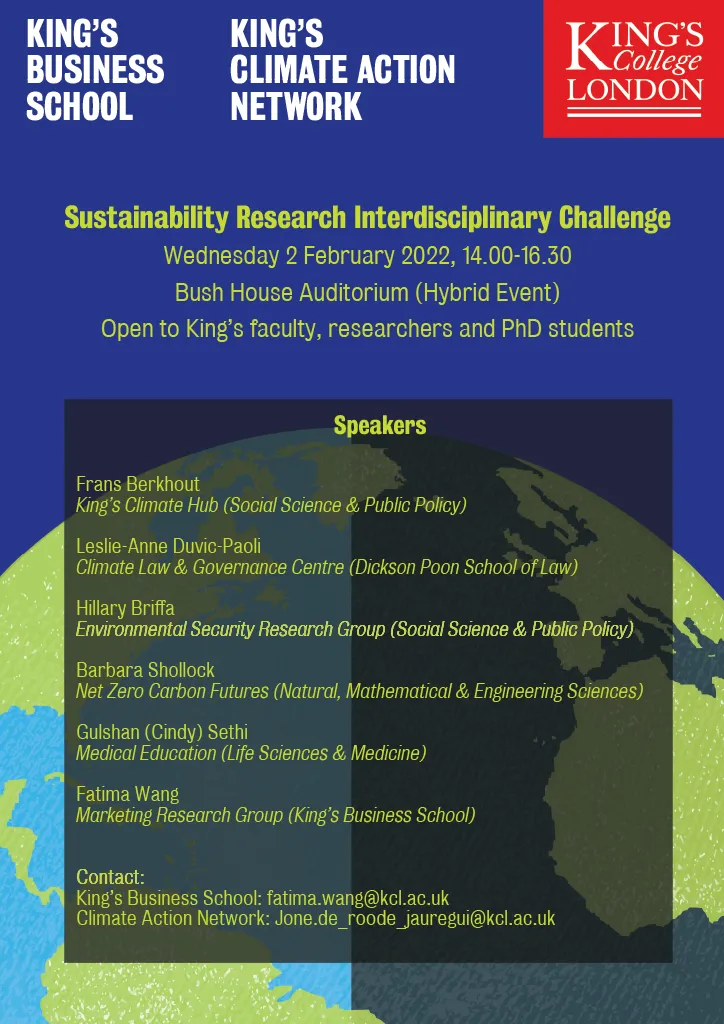 Graphic summarising the details of the event.
Event details
Auditorium (Hybrid)
Bush House
Strand campus, 30 Aldwych, London, WC2B 4BG