03 April 2019
Five fantastic History Department books available/arriving Spring 2019
Highlighting a selection of exciting books from Department of History staff members, currently or soon to be available.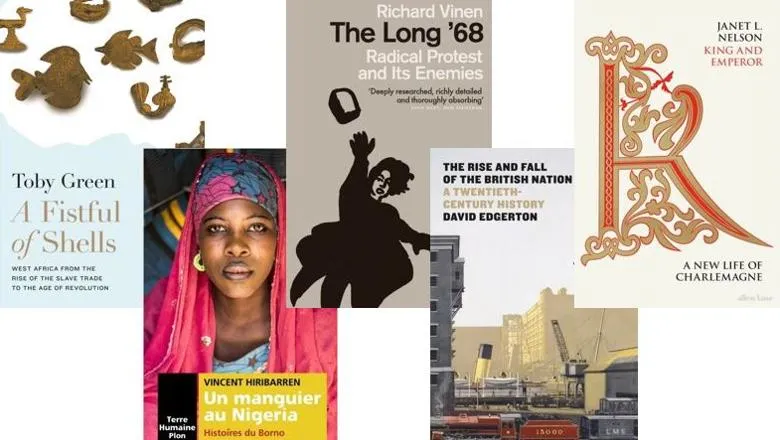 Five fantastic History Department books available/arriving Spring 2019
The first half of 2019 will, as ever, see an impressively large number of books, edited volumes and new editions published by members of the Department of History's prodigious academic staff.
With teaching now over for the semester and with the Exam Period still a good way away, now is an excellent time to get stuck into a decent history book – and below you will find five of the best works of historical scholarship available, all written by members of the Department of History.
Released in paperback on April 4, The Rise and Fall of the British Nation by Professor David Edgerton looks to redefine what it was to be 'British' during the twentieth century. The book argues that this period saw Britain transform from an 'exception to the global rule' to a 'real' nation, and then into something altogether different in the latter part of the century.
Warmly reviewed in the press, including the New Statesman and the Times Literary Supplement, the latest work from 'myth-buster extraordinaire' David Edgerton will make you rethink almost everything you thought you knew about Britain. 'Every so often a book comes out that the entire political class needs to read,'  said the New Statesman, who also dubbed Edgerton 'Britain's most exciting and arresting late-modern historian'. Not for nothing then, was this forensic, unorthodox revisionist history made a book of the year in both Prospect and New Statesman magazines.
Also coming out in paperback on Thursday this week, The Long '68 by Professor Richard Vinen focuses on the extraordinary range of protests witnessed across much of the western world in the year 1968. Described by Andrew Marr in The Times as 'a thoughtful, readable account of a moment in history that deserves to be dwelt on', this is a striking and original work which, in the words of the FT's Andrew Hussey, 'reveals that 1968 is still unfinished business'.
Moving away from the history of the west, Dr Toby Green's A Fistful of Shells, released earlier this year on January 31, has also received excellent reviews: Ben Okri in the Daily Telegraph, for example, described the Dr Green's ground-breaking new history of West Africa as 'astonishing, staggering...a book that shakes the received perception of history'.
Also focusing on African history, in Un manguier au Nigeria: Histoîres du Borno (trans: A Mango Tree in Nigeria: Histories of Borno ) Dr Vincent Hiribarren leads us to the shores of Lake Chad in the Borno region of Nigeria and draws back the veil on one of the oldest states in Africa. Following on from his 2017 work, A History of Borno, this book (released February 7 and reviewed in both Le Monde and Le Monde Diplomatique) looks to shine fresh historical light on a nation often mischaracterised by the western media.  
Lastly, July this year will see Professor Dame Janet Nelson's long-awaited new life of Charlemagne, King and Emperor, finally hit the shelves. Sifting through all the evidence and pulling together everything we know/think we know about one of the most remarkable figures in European history, the book will doubtless come as close as we possibly can to understanding 'Karl der Grosse', his life and his motivations.
Any new work by a medievalist as celebrated as Janet L. Nelson is cause for significant excitement, and this 'remarkable book' about a 'truly extraordinary man' is no exception – look out for it in late June!
For further information on these works, or to order/pre-order yourself a copy or two, please make use of the links below:
In this story