02 April 2020
A Podcast of One's Own: Emma Watkins on gender stereotyping
Julia talks to the Australian performer, best known as the first woman in children's entertainment group the Wiggles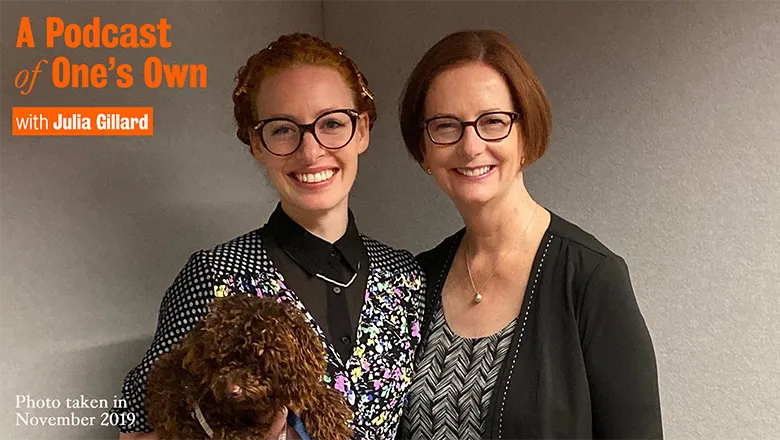 Popular Australian singer, dancer and actor, Emma Watkins, features in the latest episode of A Podcast of One's Own. The first and only woman to be part of children's music group The Wiggles, Watkins talks to Julia about encouraging children to be themselves, free from stereotypes, and how she copes with the pressure to live up to expectations of being the only female Wiggle.
Made up of four members, the group performs songs and dances to teach and entertain children and is informed by early childhood development principles. They've "been an Australian children's phenomenon for almost 30 years," Watkins says.
Growing up a fan of the Wiggles herself, Watkins started performing from the age of four and attended a performing arts school. She auditioned to play a variety of supporting roles in the Wiggles at first, before becoming the Yellow Wiggle and first female character in 2012. As such, she's seen as a role model for young girls but also boys as well:
"Initially I was quite daunted…but then you hear the stories of parents…talking about…children looking up to Emma Wiggle…there's so many different aspects of life that you initially don't realise you're having an impact on with families with young children."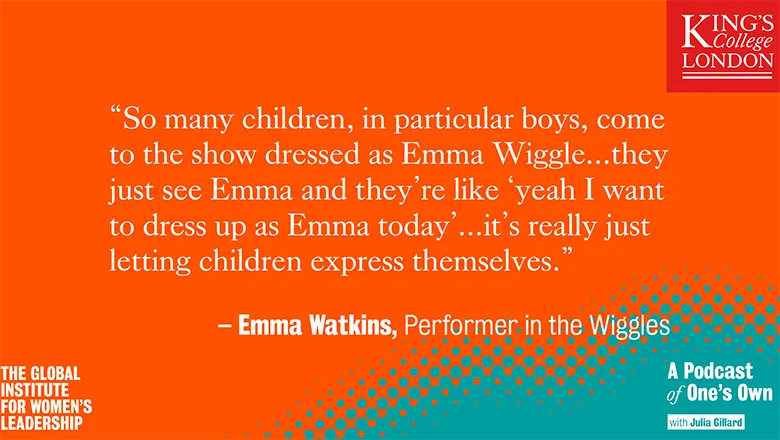 As the only female member of the group, she is often criticised for breaking with tradition: "I still get hate on social media about being a girl Wiggle. That happens daily."
Her costume, consisting of a skirt, top and bow, has also received criticism for being "stereotypically girly", especially from parents worried about how it impacts their children. However the group is also mindful of sending the right message to children about gender stereotyping, encouraging them to express themselves in whatever way they feel comfortable:
"We are very conscious about the stigma around female and male roles…we always try to change it up…I'm dressing up as a doctor and a chiropractor and a dentist and horse rider."
Her costume isn't just popular with the girls either:
"So many children, in particular boys, come to the show dressed as Emma Wiggle…they just see Emma and they're like 'yeah I want to dress up as Emma today'…it is amazing the even in Australia that we're still sitting in such a conservative place…it's really just letting children express themselves."
On becoming the first ever female Wiggle she received a backlash from some traditionalists who wanted the group to stay as four men. The sudden attention from the media and interest in her personal life was also a bit of a shock:
"I don't think I expected it at all…When all the criticism started, I felt quite negative about it all. And I was quite worried about media early on because I just felt I was being scrutinised for a role that I didn't necessarily choose."
However, her a strong fan base across Australia was a support mechanism for Watkins after she developed endometriosis and had to take time out from performing for treatment:
"It was just like a flood of messages from parents and mothers that had had endometriosis then overcome it…I just didn't expect that it would be such a connection point with mothers in Australia and all over the world. It's amazing, somebody talks to me about endometriosis every day."
You can find this and previous episodes of A Podcast of One's Own on all the main podcast platforms.