13 December 2019
A Podcast of One's Own: Stella Creasy on making parliament more women-friendly
UK MP Stella Creasy talks to Julia about her life in politics and how she's changed parliament for women forever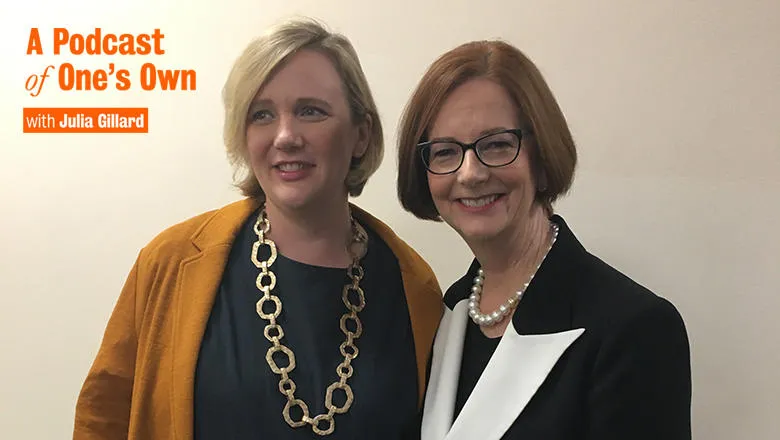 The latest episode of A Podcast of One's Own features newly re-elected Labour MP Stella Creasy. Recorded midway through the UK general election campaign and two weeks before the birth of her first child, Creasy found time to talk to Julia Gillard about her life in politics, fighting to win abortion rights for women in Northern Ireland – at the cost of personal abuse that put her life in danger, and how parliament needs to change to become truly gender-equal.  
Creasy's political activism began at the age of 11, when she took to the streets to protest against Margaret Thatcher's poll tax:
"We'd just moved from Manchester to small-town Essex, and I thought I was the only socialist in the county…I had kind a kind of fight or flight reaction."
This early taste of campaigning set her on course for a career in politics, climbing the ranks first as a local councillor then eventually becoming the MP for her local community – Walthamstow in London.
Around this time progress was being made in terms of increased women's representation in politics, but gendered norms persisted:
"Men who want to that tell you that they care about equality, but they'll do it for you…your job as a woman…is to run an event for them – they'll do the strategy and the big thinking and the clever stuff."
Creasy was selected as a candidate thanks to an all-woman shortlist, which she stresses "aren't about the women" but "trying to take off the blinkers that people have about what leadership looks like".
She describes the kind of advice she received, as a young woman candidate, to "make her look older", including being told to wear a suit and get a haircut: "I'm not really a suit person…I kind of looked like a bad version of Dolly Parton."
After being elected, her attitude to politics as an opposition MP was to not let parliamentary protocol and tradition stop her and just "get on and do things". This included working with MPs from different parties to achieve her aims, such as introducing legislation to mitigate against payday lenders.
More recently, she worked with groups from across the political spectrum to bring about historic legislation change in Northern Ireland, not only giving women the right to an abortion for the first time ever, but also allowing same-sex couples to marry – something "people thought would never happen". She describes what the victory meant, not just for Northern Ireland but the UK as a whole:
"We won a very important argument which was that this was a human right [and] that having control over what happens to your body shouldn't be a gendered question."
But being at the forefront of this campaign led to Creasy suffering shocking levels of abuse from anti-abortion campaigners. Borrowing tactics from the US, they used the slogan "Stop Stella" and displayed 20-foot posters showing her head next to aborted foetuses, around the same age as the baby she was carrying at the time:
"They have unleashed a whole tirade of people writing to me telling me that I'm a baby killer...They may as well have put a target on my head."
In her view, this form of very targeted, personalised campaigning is a form of harassment, of incitement to hatred. But she feels the police response has been disappointing, as they have defended the abuse on free speech grounds. This goes to the heart of one of her other campaigns, which is to get misogyny classified as a hate crime:
"You've got to give women the equal right to be heard and…to say things that people are going to find difficult, without being screamed at and shouted down or made to live in fear of their life."
Creasy also discussed her work to make parliament more women- and family-friendly, including fighting the parliamentary authorities to allow her to appoint maternity cover for the first time in parliament's history, so that she doesn't have to choose between being a mother and an MP.
Changes like this are crucial if we're ever to see a gender-equal parliament, Creasy argued:
"This job is not so specialist that you need years and years of training; there are plenty of amazing women out there…so that leaves you the question: if the women are already there, what is it about the environment that has to change?
"When we get to the point where we've got lots of mediocre women in positions of power and influence, then I'll stop.
"Change is possible it's just bloody hard work – but my God, when it happens it's amazing. We must never ever give up."
You can find this episode and previous episodes of A Podcast of One's Own, on all the main podcast platforms.