08 September 2022
A summer of success for King's Forensics
King's Forensics is an academic group within King's College London that hosts a range of world-leading laboratories, including the Drug Control Centre: the UK's only World Anti-Doping Agency (WADA) accredited laboratory; DNA analysis @ King's, a United Kingdom Accreditation Service and Ministry of Justice accredited forensic genetics laboratory; and a City of London Police Fingerprint laboratory.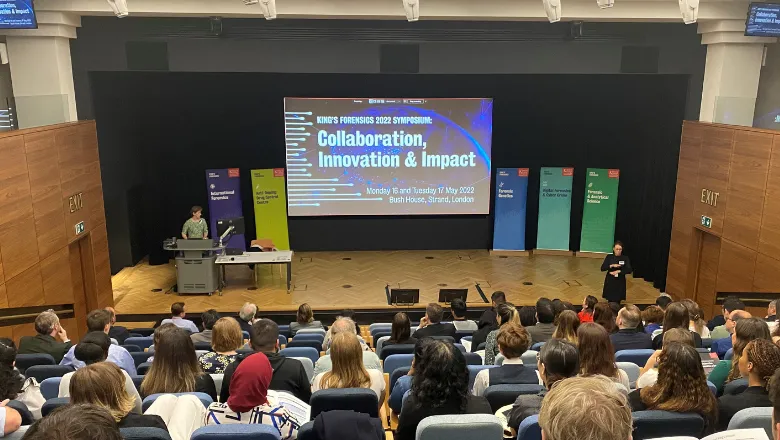 Kim Wolff, Professor of Analytical, Forensic and Addiction Sciences, King's Forensics, introduces the symposium
With its strong scientific credentials, King's Forensics has a reputation for exceptional research and output that directly tackles some of the big issues in the criminal and legal world. This summer has been no exception, as King's Forensics has continued to operate at the forefront of evidential analysis. Here are just some of the highlights from King's Forensics' summer of success.
King's Forensics Symposium
After two years of COVID-19 restrictions, King's Forensics was finally able to hold its symposium at the iconic Bush House venue earlier this year. The hybrid set-up offered the accessibility of presenting online and the intimacy of meeting face-to-face. Leading figures in academia, government, and the justice system came together to discuss topics at the forefront of forensic and analytical science including (but not limited to): advances in forensic genetics, anti-doping science, digital crime and cyber security and both wildlife conservation and wildlife trade.  
Alongside our diverse range of talks, attendees were able to present their research as poster presentations and lightning talks, with our own Alvaro Varela Morillas winning the prize for 'Best Lightning Talk' and Dr James Gooch awarded the best poster. We attracted an incredible turnout of over 250 people who attended this year's Symposium in-person and virtually.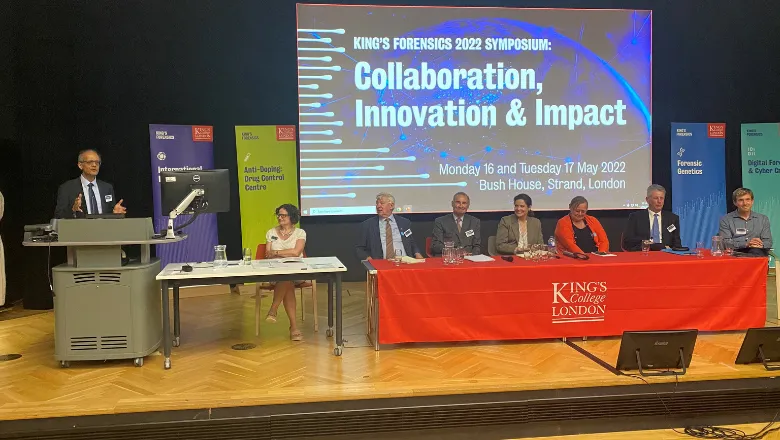 Professor Ajay Shah, Executive Dean, Faculty of Life Sciences & Medicine, speaks alongside the symposium's expert panel
Conference season
Gillian Tully, Professor of Forensic Policy & Regulation, was invited to give a plenary session (one of only two from the UK) at the European Academy of Forensic Sciences in Stockholm. The Gordon Research Conference (GRC) was also well represented by King's Forensics with Professors Denise Syndercombe Court and Gillian Tully being invited as keynote speakers with one of our graduates, Dr Laurence Devesse, co-organising the conference.  Dr Devesse and Lucinda Davenport from our Forensic Genetics team have delivered well received presentations on their PhD research at the International Society for Forensic Genetics 2022 in Washington.
Professor Kim Wolff meanwhile presented at the International Council on Alcohol, Drugs & Traffic Safety T2022 conference in Rotterdam. 
In September we are proud to host the annual National Police Chief Council (NPCC) Custody Conference with Professor Kim Wolff delivering a talk on her research in drug driving and Professor Denise Syndercombe Court presenting research in age estimation and forensic genetics.  We are also hosting the London Toxicology Group (LTG) and London Biological Mass Spectrometry Discussion Group (LBMSDG) meetings with Dr Lewis Couchman, and the Professor Nigel Eastman Memorial Lectures with British Academy of Forensic Sciences.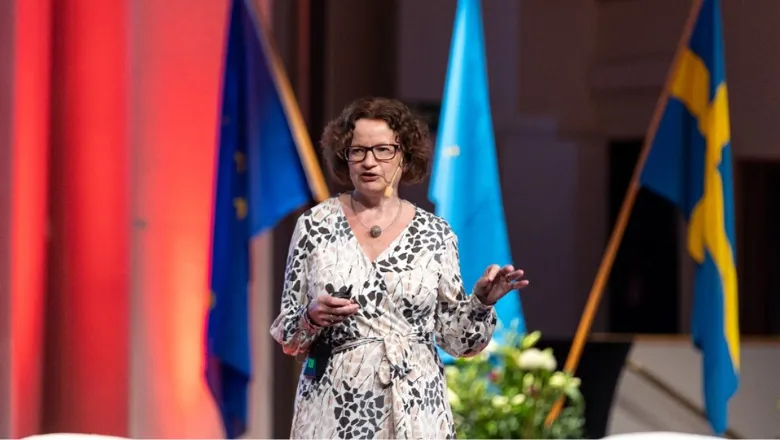 Gillian Tully, Professor of Forensic Policy & Regulation, presents at the European Academy of Forensic Sciences in Stockholm
Science meets historic art 
Dr Nunzianda Frascione led an important forensic assessment of the Donatello's Renaissance masterpiece 'The Virgin and Child with saints and angels', bringing together the often idiosyncratic pairing of science and art. A team of experts spanning the Forensic Biochemistry Research Group and the Victoria & Albert Museum's (V&A) Science Division took up the challenge of creating the first chemical profile of the treasured artefact.  
The study employed a range of different techniques to avoid damaging the fragile relief, including Desorption Electrospray Ionisation Mass Spectrometry Imaging (DESI-MSI), which was used for the first time in paintwork analysis. Using these analytical techniques, the authors learnt a lot about the painting technique and materials. After all, how can you appreciate a beautiful Renaissance relief if you don't know that it's made from fish bones and egg yolk?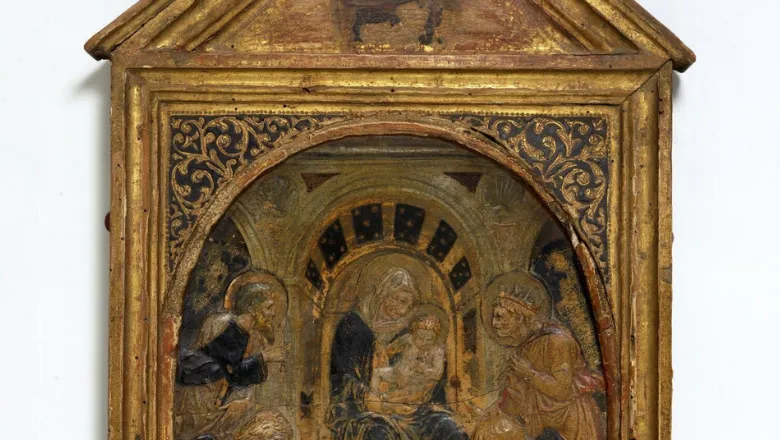 A closeup of Donatello's masterpiece
Testing Programme
King's Forensics prides itself on the application of its world-leading Drug Control Centre's (DCC) sports testing capability to help keep sport clean. This year was no exception as the DCC was responsible for the testing programme at the Birmingham 2022 Commonwealth Games. Working closely with UKAD and the Commonwealth Games Federation (CGF), the DCC tested blood and urine samples from athletes for banned substances. The Centre provided round-the-clock testing services, testing anonymised samples for substances on the World Anti-Doping Agency (WADA) Prohibited List and delivering results to the CGF during the Games. Over 1,000 samples were tested by the UK's only accredited laboratory in celebration of sport and human performance and in support of the CGF's core values of humanity, equality, and destiny.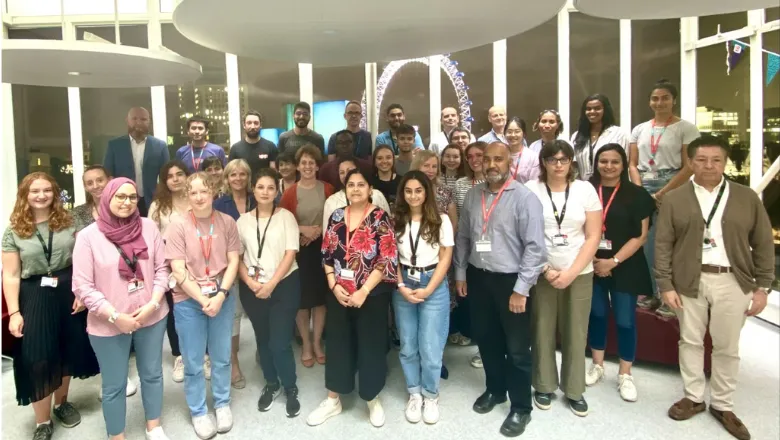 The team from King's Forensics' Drug Control Centre (DCC)
In the news
King's Forensics continued to lead on societal issues related to forensics, as shown by Professor Denise Syndercombe Court. She wrote an incisive and insightful article in the Financial Times on the ethics of using new, emerging forensic technologies to determine the age of asylum seekers, drawing from the research of the DNA@King's Forensic Genetics laboratory.  Whilst Professor Andrew MacLeod wrote of the potential exploitation of women and children because of the war in Ukraine and has made several media appearances highlighting these issues.  Dr Vincenzo Abbate, newly promoted to Reader in Bioanalysis, will chair the IUPAC international committee on New Psychoactive Substances.
Executive Education
Alongside the department's commitments to research and service, King's Forensics provides educational opportunities to train the next generation of international forensic scientists. King's Bolashaq Scholarship Programme in 'Forensic Science, Law, and Intellectual Property' is led by the Forensic & Analytical Science research group, inviting Kazakhstan's top scholars as part of an effort to reform their justice sector. This year's programme welcomed 26 scholars, six of whom are academics from Kazakhstan's leading universities. As well as taking part in tailored lectures and workshops, scholars undertake research projects which have the potential to be published as journals and presented at conferences.
The latest graduating cohort of King's Bolashaq Scholarship Programme in 'Forensic Science, Law, and Intellectual Property'
Accessible Online Education
The longstanding successful Science Behind Forensic Science online programme will run again in September on the FutureLearn platform with almost 11,000 learners enrolled.  You can follow the journey from crime scene to courtroom via our forensic biology and chemistry labs.  Free registration can be found here.  
We are very excited to announce the launch of our new Science Behind Anti-Doping Science Massive Online Open Course (MOOC) featuring Dame Katherine Grainger chair of UK Sport in November this year.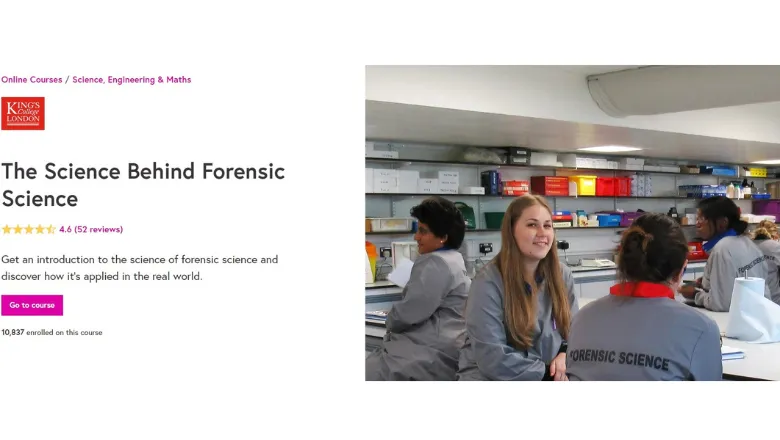 Our new Science Behind Anti-Doping Science MOOC, featuring chair of UK Sport Dame Katherine Grainger, begins in November this year
Explosive start
At the end of the summer King's Forensics will welcome Dr Matteo Gallidabino who will join us as a Lecturer in Forensic Chemistry. Matteo studied at the prestigious School of Criminal Justice (Ecole des Sciences Criminelles, ESC) and the University of Lausanne in Switzerland. His PhD thesis investigated headspace analysis of volatile gunshot residues. Matteo will lead on the forensic analysis of explosive residues and the chemical profiling of organic Gunshot Residue (OGSR) and contribute to advancing criminal investigations of terrorist attacks by profiling energetic material residues.
In this story