26 May 2023
A tea dance, 'people bingo' and human rights
Caroline Green and Jo Brown were at Stanstead Lodge Senior Club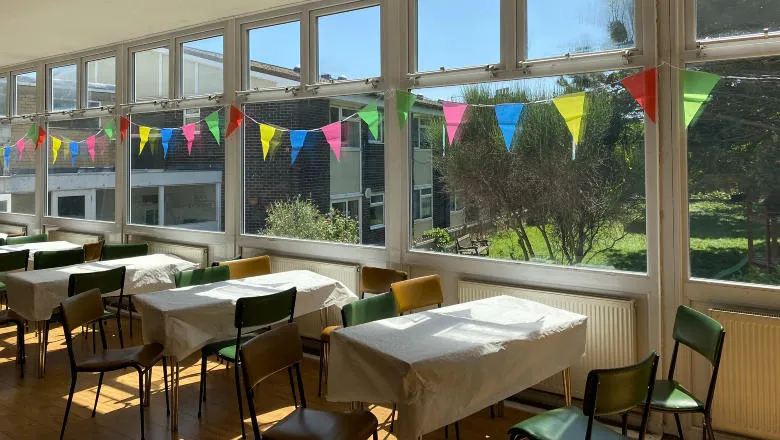 Dr Caroline Green and Jo Brown from the Unit worked with artist and performer Kit Green to host a Tea Dance event at Stanstead Lodge Senior Club on 26 May. Based on the Tea Dances at the Albany Theatre in Deptford, the afternoon included music, poetry, and some activities to encourage discussion about a topic within social care research.
Over 40 people attended, and guests were encouraged to meet new people by playing an icebreaker game of 'people bingo'. Each guest was given a bingo card with a series of statements that could describe a person's experiences or interests (see below), and the aim was to find another guest who matched each of the statements in the boxes. Some of the statements were about hobbies, but others prompted attendees to discuss their experiences of drawing on health or social care.
After some singing and a poetry recital, Jo and Kit led a quiz about dementia, human rights and social care. One of the questions that prompted most discussion was a 'true or false' question about whether a person's human rights change when they move into a care home. The correct answer was 'false' – your human rights do not change if you move into residential care. However, many guests felt that this did not correlate with their experiences of drawing on residential social care or caring for relatives living in care homes. This led onto a wider discussion about the 'right to a care partner' study and the need to ensure that all care home residents are aware of their rights and can advocate for them.
Many participants also signed up to join the stakeholder group for Caroline and Jo's study, which will work to design some resources about visiting policies in care settings. The team look forward to hosting another Tea Dance in the autumn.
Images: Stanstead Lodge Senior Club (top); card for icebreaker game of 'people bingo'
In this story