18 January 2022
Academic to explore whether quirky stories can broaden the appeal of physics
Dr Richard Brock, of the School of Education, Communication and Society, has been awarded funding from the Institute of Physics to investigate the impact of the Stories from Physics booklets he wrote last year.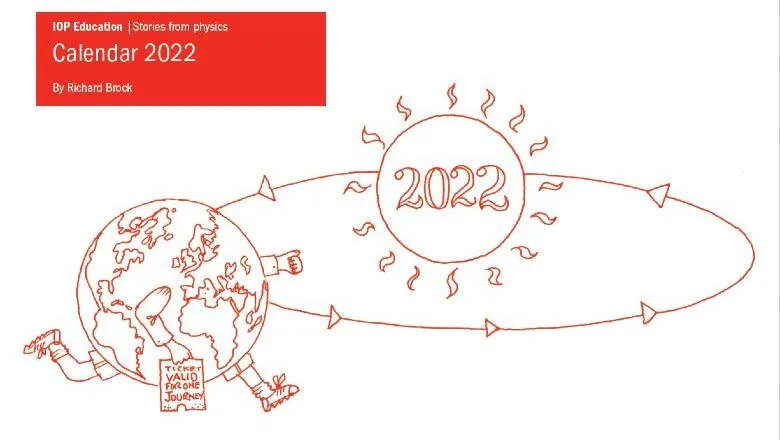 Dr Richard Brock, Lecturer in Science Education, has been granted funding to see how curious tales of physics affect attitudes to the subject.
Since 2019, Dr Brock shared hundreds of quirky stories taken from across the domains of physics, from electricity and magnetism to astronomy and space, from forces and motion to energy, and more.
He concluded the series in December with a booklet on quantum, nuclear and particle physics stories – in which teachers and students would learn, among other anecdotes, that Schrödinger had a pet, but it was a dog, not a cat! In addition to producing the freely available booklets, the former physics teacher also created a 2022 stories calendar, of which copies were sent to the Institute of Physics' affiliated schools.
Dr Brock, who is part of the Centre for Research in Education in Science, Technology, Engineering & Mathematics (CRESTEM), has had many teachers come to him to tell him that they were using the booklets to create displays in science departments, as a regular reading to support scientific literacy, and to record short story audio clips.
This made the researcher want to investigate the impact of the booklets, which is how he will use the new grant of just under £6,500 from the Institute of Physics.
He said: "I am grateful to the Institute of Physics for their support of the project, both the booklets and the research funding. The aim of the research, which I will carry out with Ben Rogers of the Paradigm Trust, is to develop guidance on how to use physics stories effectively in the classroom.
"We want to examine if introducing a range of role models (for example, Bernard Schmidt, an Estonian astronomer, who lost his hand in a childhood accident with explosives, but became one of the world's foremost lens grinders, despite his disability) can broaden the appeal of physics.
"As enthusiastic as I am about storytelling, the 'seductive details' in stories can pull students' attention away from the substantive physics content. We are aiming to develop guidance on the most effective way to use stories to support interest without distracting from the main task of learning physics."
This interest to humanise physics started from an early age for Richard Brock, he recalls: "Even as a student who enjoyed the mathematical side of physics, the subject could, at times, feel a bit dry. Stories about the history of physics, and quirky pieces of cutting-edge research, made the discipline more human."
He has therefore been gathering curious tales about physics throughout his readings, so he had quite the repository to choose from when putting together the booklets for the Institute of Physics.
Brock said: "My editor at the Institute of Physics, Caroline Davis, and I had many interesting debates about the merits of one story over another. Daniel Willingham's notion that good stories contain four Cs – Character, Conflict, Complications and Causality (explaining why something happened) – was helpful in decision making. But I have a large bank of stories that still need to be shared."
In this story